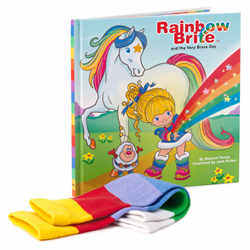 We're thrilled to bring Rainbow Brite fans the classic characters they love so they can share these colorful characters with a new generation," says Hilary Butler, product manager for Hallmark.
KANSAS CITY, Mo. (PRWEB) September 01, 2015
Fans of Rainbow Brite™, the 1980s character created by Hallmark, are in for a colorful treat.
The first of Hallmark's new products reviving the classic Rainbow Brite characters are now available for sale in Hallmark Gold Crown® stores and on Hallmark.com. A new RainbowBrite.com website also launched recently, celebrating all the colorful fun of the classic and current characters.
"We're thrilled to bring Rainbow Brite fans the classic characters they love so they can share these colorful characters with a new generation," says Hilary Butler, product manager for Hallmark. "We've stayed true to the spirit of the original Rainbow Land characters and look forward to continuing Rainbow Brite's legacy."
Classic Rainbow Brite products now available in Hallmark Gold Crown stores and on Hallmark.com include:

Hallmark itty bittys®, the popular line of four-inch-tall plush characters, introduces four individual Rainbow Brite classic characters – Rainbow Brite, Twink, I.Q. Sprite and O.J. Sprite ($6.95 each) – and a four-character collector set featuring characters Indigo, Red Butler, Hammy Sprite and Romeo Sprite ($29.95 for set).
A new storybook called Rainbow Brite and the Very Brave Day features Rainbow Brite and her friends on an adventure to save Rainbow Land with lessons of friendship and bravery learned at every turn. This book comes with rainbow legwarmers. ($14.95)
A Rainbow Brite Keepsake Ornament brings colorful cheer to the holidays. ($14.95)
Twink, Rainbow Brite's sidekick, makes his comeback as an 8-inch plush toy. ($14.95)
Proven Fan Favorites
In June, Hallmark offered a Limited Edition run of an exclusive batch of Rainbow Brite itty bittys®. Only 500 of each of the six Rainbow Brite Limited Edition itty bittys characters were produced, and they sold out on Hallmark.com in five days.
RainbowBrite.com
The RainbowBrite.com website was imagined and developed by Feeln, the creators of the new Rainbow Brite animated series that debuted in 2014. The website brings the characters from Feeln's Rainbow Brite series to life with colorful activities, videos and rainbow fun for fans.
More to Come
Follow Rainbow Brite and Hallmark social channels for details about additional classic products coming to Hallmark Gold Crown stores and Hallmark.com this fall, including Starlite – Rainbow Brite's horse as a 10-inch plush toy (coming in October) – and a 16-inch classic Rainbow Brite doll (coming in November).
Rainbow Brite™ © Hallmark Licensing, LLC
About Rainbow Brite
Rainbow Brite is a character franchise that was first introduced by Hallmark Cards in 1983 and adapted to an animated television show from 1984-1986. The beloved Rainbow Brite character, with the help of her friends, introduced generations of children to colorful and imaginative adventures in Rainbow Land. Follow Rainbow Brite at Facebook.com/RainbowBrite and @briteisback on Twitter.
About Feeln
Founded in 2007 by Academy Award-winning Producer Rob Fried, Feeln is a movie subscription service showing films that move, inspire and delight audiences of all ages. Subscribers enjoy a wide variety of content, including award winning films, Hollywood blockbusters, Feeln Original Short Films, and Hallmark Hall of Fame® movies. Feeln is available online; on stream-to-TV devices including Roku and Xbox; and on mobile phones and tablets. Follow Feeln at Facebook.com/Feeln and @Feeln on Twitter.
About Hallmark Cards, Inc.
Hallmark makes the world a more caring place by helping people express what's in their hearts and connect in emotional ways with others. In the U.S., innovative Hallmark greeting cards and gifts are sold through the network of Hallmark Gold Crown® specialty stores, leading mass retailers and online. Worldwide, Hallmark offers products in more than 30 languages available in 100 countries. Millions of households enjoy family friendly television programming offered by cable's top-rated Hallmark Channel and fast-growing Hallmark Movies & Mysteries. Hallmark's Crayola subsidiary inspires artistic creativity in children through Crayola® crayons and markers as well as other innovative art tools, crafting activities and creative toys. Privately held Hallmark is based in Kansas City, Mo., and continues to be led by members of the founding Hall family. Visit http://corporate.hallmark.com for more details. Connect at Hallmark.com and on Facebook, Twitter, Instagram and Pinterest.