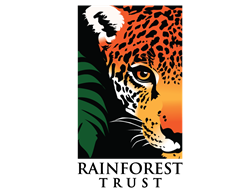 WASHINGTON (PRWEB) May 29, 2019
Rainforest Trust announced today that Dr. Paul Salaman, CEO, will transition to a new leadership role in the organization. Dr. Salaman has been named President of Rainforest Trust, serving as the organization's lead scientist for establishing conservation priorities. He will provide leadership in conservation strategy as well as outreach and donor development. The role will also encompass establishing and fostering partnerships with local conservation organizations and governments throughout the world.
The Rainforest Trust Board of Directors has commenced an executive search for a new CEO. Mark Gruin, who is currently Rainforest Trust's Senior Director of Partnerships, has been appointed Acting CEO. Dr. Robert Ridgely, who first joined the organization in 1999 and has served as President since 2012, has been named President Emeritus. The leadership transition is effective immediately.
Dr. Salaman joined the organization as Director of Conservation in 2008 and has served as CEO since 2012. Under his leadership, the organization has grown from a small nonprofit focused on rainforest conservation in Latin America to one of the largest, most effective and efficient conservation organizations in the world with projects across Latin America, Asia-Pacific and Africa. Under Dr. Salaman's leadership, Rainforest Trust has saved more than 15 million acres of the most important habitats for tropical biodiversity. The organization has also launched the SAVES Challenge, a commitment to raising $50 million as a challenge match that is directing a total of $100 million towards creating new protected areas throughout the tropics for the planet's most endangered species.
"The Board of Directors recognizes Paul's significant achievements to rainforest conservation, including his vision, tireless energy and unyielding commitment to our mission," said Dr. Eric Veach, Chairman of the Board. "We are pleased that Paul will continue to represent Rainforest Trust in his new role."
"I am proud of what Rainforest Trust has achieved and the increasingly important role we play in protecting the most threatened tropical forests and saving endangered wildlife through partnerships and community engagement," said Dr. Salaman. "In my new role, I will be able to focus exclusively on my true passion. I look forward to working with Mark, Bob, our partner organizations and our tremendous Conservation, Outreach and Development teams to advance Rainforest Trust's mission."
Dr. Veach continued, "We are pleased that Mark will be serving as Acting CEO. His working relationship with Rainforest Trust started in 2007, and he has been a full-time member of the staff since 2017. We are confident that Mark will be a strong and effective leader as we search for a new CEO. We are also fortunate that Bob Ridgely, who has played an integral role in guiding the mission and achievements of Rainforest Trust for two decades, will continue to actively serve as President Emeritus."
Mr. Gruin has more than 30 years of experience in international conservation and sustainable development. He has worked, lived and traveled in more than 40 countries. During his career, he has helped a wide range of non-governmental organizations create and implement sustainable development strategies that integrate biodiversity and habitat conservation with economic and humanitarian benefits for local communities. His career has been characterized by working on the ground in the early stages of difficult projects to quickly address immediate needs while establishing a foundation for sustainable impact and increased local capacity.
Contact: Marc Ford, Chief Outreach Officer, marc@rainforesttrust.org, 1-800-456-4930
ABOUT
Rainforest Trust purchases and protects the most threatened tropical forests, saving endangered wildlife through partnerships and community engagement. Through these highly effective partnerships, we can ensure sustainable results necessary for the long-term protection of tropical ecosystems and the wildlife they hold. For more information, visit http://www.RainforestTrust.org.