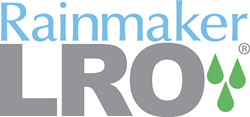 They're not out there to simply promote our platform, they're talking about Rainmaker LRO revenue management's superior performance that enables customers to improve their bottom lines.
Atlanta, GA (PRWEB) June 17, 2014
The Rainmaker Group, the leading provider of revenue management and profit optimization solutions to the multifamily housing and gaming/hospitality industries, today announces the addition of five new members to the national sales team for Rainmaker LRO®, the company's revenue management platform.
The new team members –Stephanie Brown, Tim McInerney, Justin Jasper, Deb Lasota, and Kimberly Cameron –will bring optimized rental pricing practices to owners and operators in the California, Texas, Oklahoma, Pacific Northwest and New England markets, as well as institutional investors nationwide.
"We've been very strategic in how we grow our sales team in order to best meet the needs of owners and operators looking to optimize revenue growth throughout the country," said Andrew Rains, president of Rainmaker LRO. "Stephanie, Tim, Justin, Deb and Kimberly all possess a keen understanding of the multifamily market and the intricate challenges associated with pricing apartment homes. They're not out there to simply promote our platform, they're talking about Rainmaker LRO revenue management's superior performance that enables customers to improve their bottom lines. They are talking about how faster innovation and direct integration with property management systems offers streamlined processes to further increase revenue potential. We are thrilled to add these amazing individuals to our team and look forward to the impact they will have growing the Rainmaker LRO family of customers."
Strategic Account Sales: Multifamily Assets
Stephanie Brown joined the Rainmaker LRO team in April to oversee the firm's strategic account sales for multifamily assets. In this role, her main focus will be to bring the benefit of Rainmaker LRO's optimized pricing platform to institutional investor ownerships throughout the country.
Prior to joining the LRO team, Stephanie served as vice president in various areas for both Riverstone Residential Group and Trammell Crow Residential Services. During her 20-year tenure in the multifamily industry, her expertise ranges from operations, client services, and development. This level of experience and comprehensive understanding of the various departments of multifamily will assist as she works with institutional investors, as well as owners and operators, to assess how Rainmaker LRO can best deliver the greatest revenue performance in both up and down markets. She holds a Bachelor of Science in Business Administration from The University of Connecticut.
Directors of Multifamily Sales
Tim McInerney, Justin Jasper, Deb Lasota and Kimberly Cameron were named Directors of Multifamily Sales for Rainmaker LRO. Each is charged with educating owners and operators on the competitive differentiators between LRO revenue management and other revenue management systems in the market.
Tim McInerney started in January and will primarily focus on sales in California. Previously, he served as regional sales consultant and senior client relationship manager for Yardi and Appfolio, respectively. In his four years in multifamily, he grew an in-depth knowledge base of key operational and pricing challenges in the industry. This understanding will help him better convey the benefits that Rainmaker LRO can have on a portfolio's overall rental growth. He is a graduate of Westmont College with a Bachelor of Arts in Religious Studies and lives in Santa Barbara.
Dallas-based Justin Jasper joined Rainmaker LRO in February. Prior to his new position with the company, he served as a team lead and in inside and national sales for RealPage. He will utilize his knowledge gained in four years of multifamily sales to deliver the best-in-breed, high performing revenue management to owners and operators in Texas and Oklahoma. Justin holds a Bachelor of Science in Biochemistry from The University of Texas at Austin.
Starting with Rainmaker LRO in March, Deb Lasota will concentrate her efforts in the New England region. Her background includes more than eight years in business development for CCH, a Wolters Kluwer business, and JP Morgan Chase, where she focused on software and lending services. Deb holds a Bachelor of Arts in Business Administration from the University of Vermont and a Master of Science in Finance from the McCallum Graduate School of Business, Bentley University.
As the most recent member to join the sales team, Kimberly Cameron started with the company in June. With more than 15 years of sales experience, she previously served in a variety of sales positions at For Rent Media Solutions, where she successfully crafted strategies to exceed client marketing goals. Kimberly holds a Bachelor of Arts in Psychology from the University of Texas in Austin. She will focus her efforts in the Pacific Northwest and lives in Seattle.
Rainmaker LRO® is the leading multifamily lease rate optimization solution used to maximize revenue from apartment leases. The system calculates optimized pricing based on multiple factors that influence rate setting, including traffic and lease duration, move-in dates, competitive affects and other metrics. The system also produces enterprise-wide demand forecasts by measuring and analyzing historical and current market metrics and performing calculations necessary for occupancy predictions that are dynamically updated as market conditions change.
About Rainmaker
The Rainmaker Group is the market-leading provider of automated Revenue Management and profit optimization software solutions for the Multifamily Housing and Gaming & Hospitality industries. Rainmaker software, coupled with professional business consulting services, enables multifamily housing operators to maximize revenue from apartment leases and helps operators of casino hotels and other hospitality enterprises secure the most valuable customers to increase their profitability. An innovator and thought leader in the highly specialized pricing and revenue optimization field, Rainmaker leverages cutting-edge research to bring clients the most sophisticated systems and help them achieve the highest profitability from their assets. Multifamily housing clients include leaders such as AvalonBay Communities, Equity Residential, Gables Residential, Post Properties, Mid-America Apartment Communities and more. Gaming/Hospitality clients include leading casino/hotel organizations such as Atlantis The Palm Dubai, Caesars Entertainment, MGM Resorts International, Omni Hotels & Resorts, Wynn Las Vegas, and many others. A Microsoft Silver Certified Partner headquartered in northern Atlanta, GA, Rainmaker has for three years running ranked on the Inc. 5000 list among America's top fastest growing, privately held companies. For more information, visit http://www.LetItRain.com.