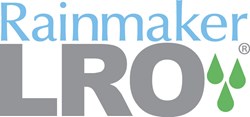 Rainmaker's proven success within the marketplace in delivering optimized revenue growth was a key factor in our eagerness to partner with them. Our decision was further solidified by their steadfast approach to meeting the tight deadlines...
Atlanta, GA (PRWEB) November 26, 2013
The Rainmaker Group, the leading provider of revenue management and profit optimization solutions to the multifamily housing and gaming/hospitality industries, announces the integration of Rainmaker LRO® revenue management with Rent Manager property management and accounting software from Cincinnati, Ohio-based London Computer Systems (LCS), a developer of business-critical software technologies. Users of the Rent Manager property management system can now boost overall revenue by quickly and easily optimizing apartment pricing using LRO's mathematical algorithms to analyze historical and market data and real-time traffic specific to each community.
As the first-of-its-kind partnership between Rent Manager and a software-based revenue management provider, it was vitally important to both parties that the process was completed rapidly. The integration featured a web service data configuration that enabled Rent Manager to seamlessly export portfolio data directly to the LRO system. Rent Manager client information, including individual property, unit count, unit type, amenity package data as well as historical pricing, competitor and market set data needed for the initial set-up, was incorporated into the Rainmaker LRO system within two months.
"We believe in optimized pricing and are consistently looking for partnerships that allow us to bring this strategic business process to apartment owners and operators regardless of portfolio size or type," said Andrew Rains, president of Rainmaker LRO. "Partnerships with organizations like Rent Manager bring an added benefit because of full buy-in from their executive team. They understood what it takes to make this integration as seamless and successful as possible. With this level of business collaboration, Rent Manager was not only looking out for the best interest of their customers but are better positioning their users to improve their pricing strategies and generate more revenue."
With property data fully integrated and configured into the revenue management platform, Rent Manager users have complete access to the Rainmaker LRO dashboard, streamlining on-site documentation of move-in, move-out, and renewal information and generating more accurate and systematic pricing recommendations. Furthermore, with the system's superior reporting and tracking functionalities, Rent Manager users gain more precise lease expiration management practices, a better understanding of their position within their competitive set and the flexibility to proactively respond to changing markets, all while simultaneously delivering greater pricing confidence to leasing professionals.
"During our research into the revenue management systems in the multifamily industry there was a clear delineation that Rainmaker LRO is the revenue management provider for our industry," said Tony Little, chief technology officer for Rent Manager. "Rainmaker's proven success within the marketplace in delivering optimized revenue growth was a key factor in our eagerness to partner with them. Our decision was further solidified by their steadfast approach to meeting the tight deadlines for this integration. We are excited about the partnership and look forward to the financial success it will deliver our customers."
Rainmaker LRO® is the leading multifamily lease rate optimization solution used to maximize revenue from apartment leases. The system calculates optimized pricing based on multiple factors that influence rate setting, including traffic and lease duration, move-in dates, competitive affects and other metrics. The system also produces enterprise-wide demand forecasts by measuring and analyzing historical and current market metrics and performing calculations necessary for occupancy predictions that are dynamically updated as market conditions change.
About Rainmaker
The Rainmaker Group is the market leader in profit optimization solutions for the Multifamily Housing and Gaming & Hospitality industries. Rainmaker software, coupled with professional business consulting services, enables multifamily housing operators to maximize revenue from apartment leases and helps operators of casino hotels and other hospitality enterprises secure the most valuable customers to increase their profitability. An innovator and thought leader in the highly specialized revenue optimization field, Rainmaker leverages cutting-edge research to bring customers the most sophisticated systems and help them achieve the highest profitability from their assets. Multifamily housing clients include leaders such as AvalonBay Communities, Equity Residential, Gables Residential, Post Properties, MAA and more. Gaming/Hospitality clients include leading casino/hotel organizations such as Atlantis The Palm Dubai, Caesars Entertainment, MGM Resorts International, Omni Hotels & Resorts, Wynn Las Vegas and many others. A Microsoft Gold Certified Partner headquartered in northern Atlanta, GA, Rainmaker has for three years running ranked on the Inc. 5,000 list among America's top fastest-growing, privately held companies. For more information, visit http://www.LetItRain.com.
About LCS
Incorporated in 1986 and headquartered in Cincinnati, Ohio, London Computer Systems (LCS) is a developer of business-critical software technologies used in all 50 states and several markets throughout the world. LCS products include Rent Manager® Property Management software, Net Dial Tone (NDT) VoIP telephone systems and Sentry Data Backup strategies.
LCS also provides enterprise-level hosting solutions via its Sentry Data Center, as well as complete network design, implementation and support services; and custom web site design through its IT and Professional Services divisions. With more than 15,000 hosted users, LCS combines best technology with best practices to create a unique, affordable, customer-focused service. For more information about the company and its offerings, visit http://www.LCS.com.