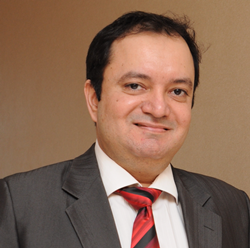 "I'm very excited and honored to be entrusted with the responsibility of achieving MPSi's growth vision while maintaining our leadership position in the learning industry." - Rajesh Jumani, Chief Revenue Officer at MPS Interactive
NOIDA, India (PRWEB) August 12, 2021
Global leader in eLearning solutions, MPS Interactive, has announced the promotion of Rajesh R. Jumani from Senior Vice President, Sales to Chief Revenue Officer. The new role expands Rajesh's jurisdiction to encompass global revenue at MPS Interactive with immediate effect. Popularly known as "Jums" at MPS Interactive, he now oversees the entire growth function that includes business development, account management, and marketing.
This new role is aligned with the company's future strategy and its relentless focus on growth. A veteran in the eLearning industry, Jums is a seasoned global sales, marketing, and strategy professional. He has been with the organization for over 24 years and has assumed a variety of growth and marketing leadership roles across the USA, the Middle East, APAC, South Africa, the UK, and mainland Europe. He has successfully helped several large organizations, including Fortune 500 companies, across the globe, adopt digital technologies to meet their business goals.
"Jums has been an integral part of the organization's growth journey," commented Rahul Arora, Chairman and CEO of MPS Limited. "He has an excellent understanding of the multiple facets of our eLearning business and has played a key role in broadening our service and customer portfolio. We are proud to have him step up as Chief Revenue Officer at MPSi and wish him all the best in his new role."
Speaking about his new role, Jumani commented, "I'm very excited and honored to be entrusted with the responsibility of achieving MPSi's growth vision while maintaining our leadership position in the learning industry."
About MPS Interactive
MPS Interactive is a leading provider of eLearning services. Founded in 1990 as Tata Interactive Systems, the company was a part of the $100 billion Tata Group until its acquisition by MPS Limited in 2018.
The organization counts over 70 Fortune 500 companies as its clients and offers a spectrum of solutions in experiential learning, eLearning content development, consulting, and learning technologies and platforms. MPS Interactive is known for its award-winning services in gamification, simulations, and immersive learning solutions and was named one of the Top 20 Training Outsourcing companies in 2021, by Training Industry Inc.