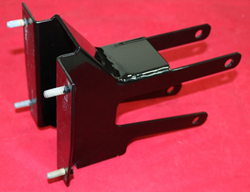 Get The Best Raked Inner Fairing Support Bracket by Pickard USA
Dallas, TX (PRWEB) January 09, 2015
Anyone building a custom road glide bagger with a 26″ or 30″ wheel will love the new product from Pickard USA. The new raked Road Glide fairing bracket is perfect for any custom build. This bracket corrects the fairing angle after raking the neck on a 30″ or 26″ wheel. It fits 2013 and down road glides. For more information about the raked Harley Road Glide fairing bracket call 972-231-1298 or visit the website at PickardUSA.com
The inner fairing bracket is made of heavy gauge steel and it's boxed in to cover the wiring harness where it mounts to the frame. It is very easy to install this raked fairing bracket for Harley-Davidson Road Glide models.
To begin installation the wires must first be pulled through the front of the bracket starting from the back. Next slide the inner fairing bracket over the frame and mount it the same as the stock bracket, using the same stock hardware.
After bolting everything together there will be some play in the bracket so it can move back and forth. These bolts should be left loose so the fairing can be adjusted later once it has been installed. There are 4 studs protruding from the inner fairing bracket which will be used to mount the inner fairing. Simply slide the inner fairing onto the 4 bolts and secure it in place with the nuts.
Once all the nuts are securely tightened onto the bolts the fairing angle can be set and the 2 bolts holding the bracket to the frame can be tightened. This completes the installation of the raked Harley Road Glide inner fairing support bracket. Be sure to ask about the new hidden road glide fairing support perfect for baggers which also holds audio & stereo amps and air compression equipment for air ride suspension systems.
For more information about the raked Harley Road Glide fairing bracket call 972-231-1298 or visit the website at PickardUSA.com