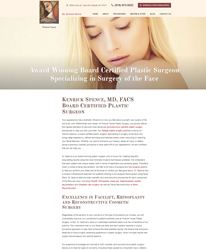 We are excited to offer this revolutionary lip filler product at our Raleigh office. Without surgery, patients can now have instant satisfaction and longer-lasting results in fuller, more attractive lips, says Dr. Spence
Raleigh, NC (PRWEB) October 27, 2016
Dr. Kenrick Spence is a distinguished and award-winning facial plastic surgeon in Raleigh who now offers Juvederm Volbella injections to patients who want to restore lip volume, define their lip borders or improve the appearance of wrinkles and fine lines around the lips. Juvederm Volbella is the latest product offered by Allergen, the nation's leading pharmaceutical company for injectable products. Juvederm Volbella is highlighted for its ability to create soft, subtle results that don't feel or look unnatural.
Dr. Spence intends to use the Juvederm Volbella as an effective treatment for restoring volume and enhancing the lips, which is often lost during aging as a result of depleted collagen and hyaluronic acid. Volbella treatment requires a consultation with Dr. Spence before the brief in-office treatment. This injectable filler is smooth gel that has a built-in anesthetic for optimal patient comfort. After ideal results are obtained with a Volbella injection, results can last up to twelve months, which is significantly longer than current facial filler products on the market.
"We are excited to offer this revolutionary lip filler product at our Raleigh office. Without surgery, patients can now have instant satisfaction and longer-lasting results in fuller, more attractive lips," says Dr. Spence.
More About Kenrick Spence, MD, FACS
Dr. Kenrick Spence was born in London, raised in Jamaica and earned his medical and surgical training in the United States. Dr. Spence is board certified in Plastic and Reconstructive surgery and General surgery. He completed his medical education at the University of Connecticut, then spent five years as a General surgery Resident at St. Rahael Hospital, a Yale school of Medicine hospital. Dr. Spence went on to complete three years of Plastic and Reconstructive surgery training at the University of Texas. He is Board certified by the American Board of Plastic Surgery, a Fellow of the American College of Surgeon and a Member of the American Society of Aesthetic Plastic Surgeons, American Society of Plastic Surgeons and American Society of Laser Medicine and Surgery. When treating patients, Dr. Spence values an attentive, non-hurried approach so that each patient feels respected and their personal goals are clearly understood.
For more information on Juvederm Volbella offered by Dr. Spence, visit his website at foreverfacesplasticsurgery or contact his office in Raleigh directly at (919) 973-5222.
Prepared by: Find Local Company