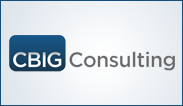 Chicago, IL (PRWEB) February 17, 2014
Early this week CBIG Consulting spokesperson and Principal John Harmann announced CBIG has successfully hit another target milestone in their strategic plan for growth in the U.S., with the launch of its new southeast regional office based in Raleigh, NC. Harmann confirmed CBIG has tapped Vince Belanger, co-founder and COO of Open Data Solutions to serve as Principal in charge of this new regional hub.
Harmann said, "Vince has been at the forefront of the technology upswing in the region for several years, and knows the business and community climates really well here. We're excited he's coming on board to provide the familiarity and management expertise we'll need to best serve our expanding client base in the area."
Belanger stated that he's pleased CBIG is creating a presence in southeast U.S., and added that the jobs outlook—specifically in the tech sector in this region—is extremely encouraging. "CBIG's well-timed local presence in providing advanced data analytics and business intelligence services will offer businesses in this region incredible potential for more focused planning, marketing, and growth. It's also a great opportunity for this region to expand educational opportunities to create BI expertise and tech-based jobs in this area of the U.S.," he added.
About CBIG Consulting (CBIG):
CBIG Consulting is an international team of experts in Data Warehousing, Business Intelligence, Big Data Analytics, and Cloud-based Analytics platforms. Selected in 2013 by independent research firm SourcingLine as well as CIO Review as a leading Big Data/data analytics consulting firm, CBIG consultants average fifteen years of direct experience in the field. CBIG works with global enterprises, mid-size businesses, and non-profit organizations in solving mission-critical reporting and analytical needs. CBIG is headquartered in the Chicago, IL area, and has additional offices in San Francisco, Boston, Denver, Austin, and Raleigh in the U.S., and Sydney, New South Wales, Australia. For more information, please visit http://www.cbigconsulting.com.