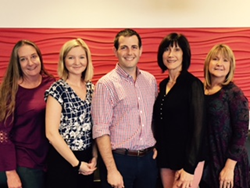 "Southern Trust Mortgage is thrilled to join the Raleigh community. Our continued success is a direct result of our outstanding customer service, from our clients to business partners in the communities in which we serve," said Jerry Flowers, STM CEO and
Raleigh, North Carolina (PRWEB) October 14, 2016
Southern Trust Mortgage (STM), a full-service mortgage lender offering a diverse product line, announced today the opening of a branch office in Raleigh, North Carolina (NMLS #2921). Raleigh is the latest to join the company's 16 branches across the south and is the 4th office in North Carolina. The office will be led by Branch Manager, Jean Hedges - NMLS# 108440.
"Southern Trust Mortgage is thrilled to join the Raleigh community. Our continued success is a direct result of our outstanding customer service, from our clients to business partners in the communities in which we serve," said Jerry Flowers, STM CEO and President.
Southern Trust Mortgage was founded in 1998 and is a DIRECT lender. As a direct lender, they control every step of the mortgage process, from pre-qualification to in-house underwriting, through funding.
The Raleigh branch is located at 4208 Six Forks Rd, Suite 1000, Raleigh, North Carolina 27609. If you are in the market for a new home or would like to contact a loan officer, please visit http://www.southerntrust.com.