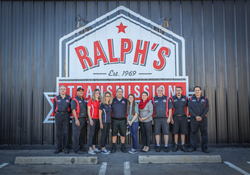 The Ralph's Transmission of 2019 represents the best of the past, present and future of this local business that got its start all the way back in 1969.
MODESTO, Calif. (PRWEB) February 07, 2019
So much has changed throughout the Central Valley area in the past 50 years. However, there has been one constant in the heart of downtown Modesto since 1969. That's the year Ralph's Transmission opened on 9th Street. It is still there now, going stronger than ever with quality customer service and expert transmission repair services.
The team at Ralph's Transmission is proud to be celebrating the company's 50th anniversary in 2019. Even though the business itself has gone through some major changes in recent years, there's always something to be said when a local transmission shop stays open for five full decades. It goes to show the difference that professionalism and care can make. The way that the current team at Ralph's Transmission sees it, 50 years is just the beginning!
Ralph Perry originally opened his transmission shop in 1969, and from the beginning he set high standards of service that allowed the business to grow over the years. However, there were definitely some lean times at Ralph's Transmission, especially after the most recent economic recession. Ultimately, it became time for Ralph to sell his beloved business to someone who could bring it into the 21st Century.
Mario & Maria Jauregui answered the call. Having owned several successful Central Valley transmission shops in the past, they saw the potential with Ralph's Transmission. "It had an ideal downtown location and a good local reputation," Mario says. "The building was getting quite run-down and needed a complete renovation, but we knew we could bring this place back to life."
The Jaureguis brought in some of the San Joaquin Valley's best transmission repair specialists, including several technicians who had worked at their other shops in the past. The building was gutted and pretty much rebuilt from the inside out. All the equipment was upgraded, including new heavy duty lifts, advanced diagnostics tools, parts cleaning stations and more. Mario had a proprietary customer relation management (CRM) software designed just for Ralph's Transmission that helps keep the shop running efficiently. Last but not least, they had a new logo created while implementing a full-scale marketing campaign to get the word out about this revitalized transmission repair shop.
"We wanted to honor the wonderful history of Ralph's Transmission while also making it known that many things had changed for the better with all the upgrades we've made," Mario says. "It's all about embracing the past, present and future of this business that has always been independent and family owned."
Even as the shop has evolved, the team at Ralph's Transmission has never lost sight of what made this local business successful in the first place. Quality customer service is always the top priority. Every single employee here is committed to treating people right and providing transmission maintenance and repair services with the utmost attention and care. To offer even more peace of mind for their customers, they established strong warranty programs. This includes their comprehensive 3 Year, 100,000 Mile Warranty on all transmission rebuilds performed at Ralph's Transmission.
Even as Ralph's Transmission celebrates its 50-year anniversary, they look forward to many more years—and decades—of being an integral part of the Modesto community. To learn more about this Central Valley transmission shop with A Commitment to Quality Since 1969, visit RalphsTransmission.com or follow on Facebook.