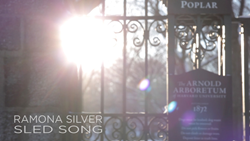 "Our area has always produced an array of fine women singer-songwriters, from Aimee Mann to Mary Lou Lord, and the next in line is Ramona Silver." - Billboard Magazine
Boston, MA (PRWEB) March 06, 2015
"Sled Song" is a unique single / video about an imaginary sled ride through the city of Boston taken by Ramona Silver and her companions. Filmed prior to Boston's record-breaking winter of 2015, the storyline starts at the top of Peter's Hill in the Roslindale Arboretum and ends with the skaters on the Boston Common Frog Pond. Besides the joy of bringing this childlike vision to light, Silver hopes this video spreads a little winter cheer to Boston and other cities grappling with this season's extreme weather.
A deft pop-rocker who has released gem after hook-filled gem ever since making a splash in Boston in the '90s, Ramona Silver is rocking, soulful, and always completely musical. Whether playing electric guitar or keyboards, Silver and her music have long been a nucleus of excitement and creativity in the New England area. Her newly-released video, "Sled Song," sums up Boston's 2015 snowy heft with sly humor and a useful lesson in the local geography of her beloved hometown.
"Our area has always produced an array of fine women singer-songwriters, from Aimee Mann to Mary Lou Lord, and the next in line is Ramona Silver." - Billboard Magazine
"No one on this earth puts four minutes of genius into a pop song the way Ramona Silver does." - The Noise
The last 20 years have seen Silver release 6 CDs, with songs used in both TV and film (Robert Redford's The Horse Whisperer). Silver has opened for Matthew Sweet, Sam Phillips, and The Call, and has made numerous radio appearances, including KCRW's Morning Becomes Eclectic. She is also a past winner of Boston's Grammy Showcase and Boston Music Awards' "Outstanding Local Female Vocalist." In street-simple yet street-smart lyrics, listeners can hear shades of influence from early Liz Phair and the mellow pop sweetness of Karen Carpenter.
"Sled Song" was filmed and edited by Mark Popadic, directed by Ramona Silver and Mark Popadic, engineered by Dan Hallas, and mixed by Free Hallas. Musicians on the song include Boston notables: vocalist/guitarist/keyboardist Jamie Edwards (Aimee Mann & Sarah McLachlan), bassist/vocalist Kimon Kirk (Session Americana & Grant Lee Phillips), and drummer John Sands (Liz Phair & Lori McKenna).
For more information about Ramona Silver visit: https://www.facebook.com/ramonasilvermusic
For more information, images, or to arrange for an interview with Ramona Silver, please contact Melissa Zeigler at Powderfinger Promotions: melissa(at)powderfingerpromo(dot)com.
Powderfinger Promotions–Independent Radio Promotion and Publicity. Since being founded in October 1994, Powderfinger has come to be regarded as a top indie radio promotion and publicity firm with ties across North America.