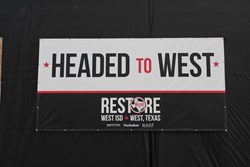 All of the parties involved in this effort were committed to having these kids back in their own school by the start of the new school year and Ramtech is honored to have played a part in making that happen
Mansfield, TX (PRWEB) August 29, 2013
As the rebuilding effort continues for the West Independent School District in West, Texas, commercial construction firm Ramtech Building Systems of Mansfield, TX announced that the company has completed the essential instructional and support facilities required for the District's middle and high school students to start the 2013 school year. The temporary campus is comprised of 28 structures including 17 new relocatable modular buildings that are located on the West Middle School site that was destroyed by the massive fertilizer plant explosion on April 17 of this year. Designed, manufactured, and installed by Ramtech, the 69,776 square foot modular construction project includes three 10-classroom buildings, four computer and science labs, two locker room buildings, an administrative office, cafeteria, library, band hall, and a life skills building. All of the buildings were built with a 26 gauge R-panel metal exterior, and have interiors that incorporate vinyl covered gypsum for the walls and vinyl composition tiles on the floors. Ramtech anticipates the special use facilities to be completed and operational prior to September 15. All of the modular school buildings for the $2.5 million project were leased through the Texas BuyBoard cooperative purchasing network and will be used for the next two years while new intermediate/middle school and high school facilities are constructed.
The interim campus is part of the first phase of The Restore West ISD building program, which includes the modular buildings that were funded out of the $5.6 million in disaster aid provided by FEMA for infrastructure repairs and temporary classrooms. West ISD also received donated portable classrooms from several North Texas school districts, which together with the new modular buildings will accommodate over 700 students. Ramtech has worked closely with construction manager Bartlett Cocke and Huckabee Architecture to complete the multi-building campus on a small six acre site in just 60 days. According to Gary White, Ramtech's vice president of sales and estimating, "All of the parties involved in this effort were committed to having these kids back in their own school by the start of the new school year and Ramtech is honored to have played a part in making that happen." More information on the progress of the West rebuilding effort can be accessed at the website restorewestisd.com.
About Ramtech Building Systems
Since 1982 Ramtech Building Systems has been providing innovative modular buildings for government agencies, healthcare providers, Fortune 500 companies, and educational institutions throughout the Southern United States. As a design-build construction company, Ramtech offers full in-house design, a manufacturer direct product, and complete site construction services all within a single-source solution. The West ISD project was designed and manufactured at Ramtech's Mansfield, TX headquarters, part of a 20-acre development located in the southern part of the Dallas-Fort Worth Metroplex. Structured as a vertically integrated design-build construction company, Ramtech provides space planning, design services, manufacturing, site construction and finish-out on every project they produce. The company maintains a consistent workforce of production workers and supervisory personnel with an average of 13 years experience, many with tenures over 20 years. This experience, coupled with Ramtech's approach to modular manufacturing and construction, allows for greater control at each step in the building process resulting in significant time and money savings for their clients. By emphasizing a value engineering approach, Ramtech has successfully completed over 3,000 diverse projects of all sizes. For more information, visit the company's website at ramtechmodular.com.