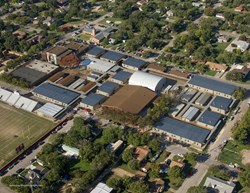 Randy Van Zandt has played a key role in Ramtech's ability to do large sophisticated relocatable and permanent modular construction projects.
Mansfield, TX (PRWEB) February 20, 2014
Commercial modular building firm Ramtech Building Systems of Mansfield, TX has announced that Randy Van Zandt has been promoted to the position of Vice President of Construction. In his new role, Van Zandt will be in charge of managing the day-to-day modular construction operations, all in-house construction personnel, and outside subcontractor relationships. He will also be responsible for developing the construction department budgets, and will work closely with Ramtech's sales and estimating departments to insure that the company's client needs and expectations are being met. Van Zandt will report to Lincoln Moss, Ramtech's President.
Van Zandt has served in several key project management capacities during his 14 years with Ramtech, most recently as the Director of Construction Projects and prior to that as a Senior Project Manager. In these roles, he has managed some of the company's largest projects including the replacement middle and high school campus for West (TX) ISD, a four-story 272 room Advanced Individual Training (AIT) Barracks for the U.S. Army at Fort Sam Houston, and 30 single and two-story Company Operations Facilities totaling 450,000 square feet for the U.S. Army at Fort Bliss in El Paso. "Randy has been an integral part of Ramtech's ability to do large sophisticated modular construction projects," Moss said, "and he will play a key role in planning and managing the site construction aspects as we expand our permanent modular construction offerings utilizing our Accelerated Building System approach."
With his experience in managing construction projects in multiple markets for all types of healthcare, education, commercial, and government applications, Van Zandt has proven himself to be one of the most knowledgeable construction managers in the modular building industry. Prior to joining Ramtech, he spent 10 years in construction and operations management in both the commercial and residential construction industries. Van Zandt earned his degree in Building Construction Technology from Texas State Technical College, and is also certified with the U.S. Army Corps of Engineers' Construction Quality Management for Contractors program.
About Ramtech Building Systems
Since 1982 Ramtech Building Systems has provided over 3,000 innovative modular buildings for government agencies, healthcare providers, Fortune 500 companies, and educational institutions throughout the Southern United States. As a design-build construction company, Ramtech offers full in-house design, a manufacturer direct product, and complete site construction services all within a single-source solution. Structured as a vertically integrated design-build construction company, Ramtech provides space planning, design services, manufacturing, site construction and finish-out on every project they produce. Ramtech's headquarters and manufacturing operations are located on a 20-acre development in Mansfield, TX in the southern part of the Dallas-Fort Worth Metroplex. The company maintains a consistent workforce of production workers and supervisory personnel with an average of 13 years experience, many with tenures over 20 years. This experience, coupled with Ramtech's approach to modular manufacturing and construction, allows for greater control at each step in the building process resulting in significant time and money savings for their clients. By emphasizing a value engineering approach, Ramtech has the capabilities to complete a wide variety of diverse projects of all sizes. For more information, visit the company's website at ramtechmodular.com.