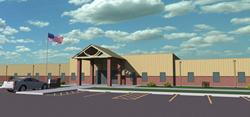 Mansfield, TX (PRWEB) September 23, 2014
Design-build construction firm Ramtech Building Systems of Mansfield, Texas has announced that Lifestyle Management Inc. of Edmond, Oklahoma has approved a design-build agreement to proceed to the first phase of a pre-construction design contract for a new 31,752 square foot residential reintegration facility capable of accommodating 296 clients. Ramtech has completed both the civil and geo-tech design work and is now approximately 80% complete with the building design.
Known as the Dallas Transitional Center, the modular building project will be located on unincorporated land owned by Dallas County approximately 12 miles south of downtown Dallas and will replace Lifestyle's current 225-bed halfway house with a new facility designed, manufactured and constructed using Ramtech's Accelerated Building System permanent modular construction method. The Dallas County Commissioners Court recently voted to approve the long-term lease of a ten acre portion of an existing 57 acre County site where the new residential reintegration facility will be located.
Ramtech will be responsible for the full site development of the four acres required to accommodate the residential reintegration facility, 40 parking spaces, two basketball courts, and two covered pavilions. The building layout will provide for four 50-man dorms, three 24-man dorms, one 24-woman dorm, two classrooms, a full commercial kitchen, and administrative office space. The exterior of the facility will incorporate a masonry wainscot and 26gauge R-panel metal siding. The interior walls will be textured and painted, with gypsum hard ceilings incorporated in the dorm areas. Heating and cooling will be accommodated using zoned rooftop HVAC equipment.
Located in Edmond, Oklahoma, Lifestyle Management Inc. provides reintegration programs for offenders that are being released from the prison system. Their residential reintegration programs are staffed by a dedicated team of professionals who provide clients with reentry programs designed to return men and women to their communities with improved life management skills, long-term employment prospects, and permanent housing. The Dallas Transitional Center contracts with the Texas Department of Criminal Justice to provide halfway house residents with case management, employment placement and reintegration services. The program also provides meals and transportation to treatment programs, jobs, and medical appointments.
About the Accelerated Building System
Ramtech's ABS process combines the best of off-site prefabrication and on-site construction techniques in order to produce a building faster and with less cost but identical in the look, functionality and life expectancy of a completely site-built structure. Ramtech accomplishes this by setting factory assembled modular sections complete with attached ceilings and walls - but no floors - directly onto a conventional concrete slab foundation. This allows the concrete slab to become the floor of the structure just like a site-built building. They will then site-apply all of the exterior and interior finishes, enabling them to provide their clients with a new facility faster and with less design and construction costs. For more information go to Ramtech's website at permanentmodular.com.