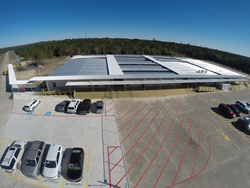 Ramtech was brought into the FEMA funded project as a direct result of the experience the company had with providing West (TX) ISD with a complete campus when that district lost their middle school after a fertilizer plant exploded in April of 2013
Mansfield, TX (PRWEB) December 15, 2016
Design-build construction firm Ramtech Building Systems of Mansfield, Texas has announced that the company has completed the final phase of the installation of a temporary modular school campus for the Deweyville Independent School District in Orange, Texas. The relocatable modular school project is structured as a 36-month lease and includes a total of eleven buildings which will replace the district's elementary school that was destroyed during the flooding which occurred in March of this year. All of the modular buildings were installed at the district's high school in a specific sequence in order to facilitate the quickest finish-out of the classroom buildings so the district could begin school on time in August. The first set of buildings included an 8,064 square foot eight classroom building which was then followed by a 6,272 square foot multipurpose facility. This building includes an administrative section with nine offices for the elementary school staff and the district's superintendent. The building also has a reception area, four bathrooms, a large conference room, computer lab, and a library. Ramtech also provided eight standard portable classroom buildings to complete the instructional space requirements. The final building to be completed was a 5,120 square foot cafeteria with a full-service commercial kitchen capable of accommodating 150 students. Each of the modular buildings are interconnected with elevated covered walkways. The modular school campus was situated on raw land adjacent to the District's high school and required full site development including new parking lots, a bus lane, and a student drop-off area.
Located in southeast Texas near the Sabine River, the Deweyville area experienced torrential rains during March of this year which ultimately led to the flooding of over 5,000 homes, multiple businesses, and the school district's elementary school and administrative office. Over 60% of the community's population was displaced in the wake of the flooding. Ramtech was brought into the FEMA funded project as a direct result of the disaster relief experience the company acquired while working with the West (TX) ISD in providing a temporary campus when that district lost their middle school after a fertilizer plant exploded in April of 2013.
About Ramtech Building Systems
Since 1982 Mansfield, Texas-based Ramtech Building Systems has been providing innovative permanent modular construction and relocatable modular buildings to educational institutions, government agencies, healthcare providers, and Fortune 500 companies throughout the Southern United States. As a design-build construction company, Ramtech offers full in-house design, a manufacturer direct product, and complete site construction services all within a single-source provider solution. By emphasizing a value engineering approach, Ramtech has successfully completed over 3,000 total projects of diverse sizes across multiple industries. Their school project portfolio includes both relocatable buildings and facilities built using permanent modular construction and the companies flagship Accelerated Building System prefabricated construction method. For more information, visit the company's website at ramtecheducation.com.