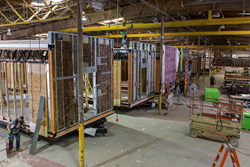 Mansfield, TX (PRWEB) June 28, 2017
Design-build construction firm Ramtech Building Systems has announced that beginning the week of June 26 the company will begin installing the first of 65 modular sections for a new 38,920 square foot modular building for Denver International Airport. The permanent modular construction project is part of the second phase of an upgrade and expansion of the airport's Concourse A commuter facility. The concourse building is being built as a co-op effort with other local contractors including Hensel Phelps, the prime contractor for the project. Ramtech will be responsible for the core and shell construction including the exterior walls, interior walls with applied gypsum board, all shear walls, complete floor and ceiling assemblies, and the exterior wall and floor penetrations for the mechanical, electrical and plumbing systems required for the Phase 2B work. The modular building will be set on a pier type foundation. Ramtech worked with Denver-based Wong Strauch Architects, PC in a design-assist role for developing the Type-IIb modular structure. Ramtech's manufacturing division began the fabrication of the modular sections at the beginning of June and the company expects to be complete with the installation phase of the project by the middle of August. Denver International Airport will use the new modular-built terminal for a minimum of 5 to 10 years while the Airport develops and moves forward with it's permanent expansion plans.
About Ramtech and Permanent Modular Construction
Since 1982 Ramtech Building Systems has been providing innovative permanent modular buildings for educational institutions, government agencies, healthcare providers, and Fortune 500 companies throughout the Southern United States. As a design-build construction company, Ramtech provides full in-house design, a manufacturer direct product, and complete site construction services all within a single-source solution. Ramtech offers permanent modular construction on both a pier and beam or concrete slab foundation. Both options combine the best of off-site prefabrication and on-site construction techniques in order to produce a building faster and with less cost but identical in the look, functionality and life expectancy of a completely site-built structure. By emphasizing a value engineering approach, Ramtech has successfully completed over 3,500 diverse projects of all sizes. For more information, visit the company's website at RamtechModular.com.