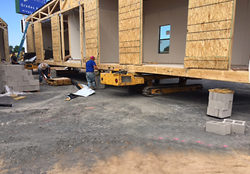 Mansfield, TX (PRWEB) July 20, 2017
Design-build commercial modular construction firm Ramtech Building Systems of Mansfield, TX has announced that the company has completed the installation phase on a new multiple classroom modular building for Mingo Valley Christian school in Tulsa, Oklahoma. The 13,440 square foot facility will accommodate 150 middle and upper- school students in a building layout that includes ten instructional classrooms, two science labs, an art room, and administrative office space. The value-engineered facility includes an R-panel metal siding exterior with wall hung HVAC units zoned for maximum heating and cooling efficiency. Ramtech's scope of work on-site included the setting of the building on a pad prepared by the school's contractor, and the installation of the floor carpet after the school performs the bulk of the interior finish-out work. The manufacturing of the modular sections was completed in April, and the project is scheduled for completion prior to the start of school in August.
Mingo Valley Christian announced in March of this year that the 40-year-old institution would be moving from its present location to a new 10 acre campus that formerly housed the Hope Worship Center. The existing facility at the new site is being renovated to accommodate the school's kindergarten through fifth grades. Mingo Valley Christian serves over 260 kindergarten through 12th grade students from throughout the greater Tulsa area. The modular school building is part of a planned expansion that will allow for an anticipated future enrollment of between 500 to 600 students.
About Ramtech Building Systems
Since 1982 Mansfield, Texas-based Ramtech Building Systems has been providing innovative permanent modular construction and relocatable modular buildings to educational institutions, government agencies, healthcare providers, and Fortune 500 companies throughout the Southern United States. As a design-build construction company, Ramtech offers full in-house design, a manufacturer direct product, and complete site construction services all within a single-source provider solution. By emphasizing a value engineering approach, Ramtech has successfully completed over 3,500 total projects of diverse sizes across multiple industries. Their school project portfolio includes both relocatable buildings and facilities built using traditional pier and beam permanent modular construction and the companies flagship Accelerated Building System slab-on-grade permanent modular construction. For more information, visit the company's website at RamtechModular.com.