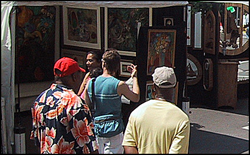 The Rancho Mirage Art affaire is one of the most anticipated art and music festivals of the season.
Rancho Mirage, CA (PRWEB) November 07, 2015
Brad Schmett, Broker Associate with Luxury Homes by Keller Williams today announced that as the Art Affaire in Rancho Mirage Community Park gets underway on November 7 and 8, the local real estate community will benefit substantially as many art patrons stay over to do some real estate shopping and take advantage of the beautiful fall weather.
Trendy Rancho Mirage is the place to be as the Art Affaire at Rancho Mirage Community Park (formerly Whitewater Park) gets underway in celebration of exquisite, original artworks combined with a music festival featuring Smooth Jazz and the sax sounds and clear vocals of Eric Darius. This year there is an even greater reason to celebrate as patrons will enjoy a brand-new amphitheater with terrace seating that is able to accommodate up to 600 guests. The stage itself will be a covered platform supported by extensive back-of-the-house facilities for the convenience of both performers and the public. Rancho Mirage is famous for its bevy of celebrity residents including such luminaries as the late President Gerald R. Ford and his wife Betty, Lucille Ball, the Annenberg Family, Frank Sinatra and Bob Hope to name only a few,
Schmett recently commented, "The Rancho Mirage Art affaire is one of the most anticipated art and music festivals of the season. It is particularly exciting this year with the addition of the new amphitheater and other renovations of the beautiful Rancho Mirage Community Park. My team and I are delighted to know that many attendees will be interested in viewing our incredible luxury home inventory. With interest rates still very low, this is a great time for anyone to purchase their dream home."
From 9 am until 5PM on both Saturday and Sunday expect to enjoy art, food, entertainment, shopping and smooth jazz sounds under the clear blue skies and comfortable temperatures of fall. Admission is free to the public and there is plenty of parking.
For more information on the Rancho Mirage Art Affaire visit http://www.ranchomirageca.gov/art-affaire.
To find out more about investing in La Quinta, CA real estate visit http://ranchomiragerealestateinfo.com.
About Luxury Homes by Keller Williams: Luxury Homes by Keller Williams – La Quinta, is an exclusive, elite and sophisticated group of real estate consultants raising the bar for service in the upper-tier La Quinta and Palm Springs area residential real estate market.