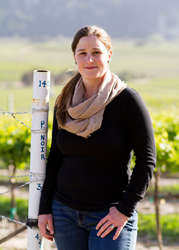 Santa Maria, CA (PRWEB) March 26, 2014
Born and raised on Rancho Sisquoc, Mullins has an innate appreciation of the land and vineyards. "I am honored to become Winemaker. I have spent my entire life on the Ranch, and spent my childhood in our vines. Over the years, these wines have become my life's passion," she says. "I am blessed to be able to work with some of the valley's best grapes. I'm thrilled to continue the tradition of our unique family of grapes, growing and blending together."
Mullins began working in the cellar at Rancho Sisquoc in 2005 and has since filled many key roles at the winery including Operations Manager, Brand Ambassador, Cellar Master, and Enologist. She has furthered her education by taking enology, viticulture, and advanced winemaking courses. Additionally, she worked harvest at Wither Hills Winery in New Zealand, honing her winemaking skills. Named Assistant Winemaker in 2009, she has naturally taken the leadership role after Alec Franks retired as Winemaker following 16 award winning vintages.
Mullins will manage a large portfolio of over 12 estate-grown wines, including Cabernet, Merlot, Pinot Noir, Chardonnay, Sauvignon Blanc and several other notable varietals.
Rancho Sisquoc Winery has been crafting award winning estate wine for over 40 years. The winery is part of a 37,000 acre cattle ranch and farm, purchased in 1952 by Mr. and Mrs. James Flood of San Francisco, and remains Flood family-owned today. The winery was one of the first in the Santa Barbara County wine region, with initial vines planted in the late 1960s. The winery is founded on hand-crafted, high quality wines made in small quantities. Rancho Sisquoc Winery is located on the Foxen Canyon Wine Trail in the Santa Maria Valley.
To learn more about Rancho Sisquoc Winery, please visit http://www.ranchosisquoc.com.