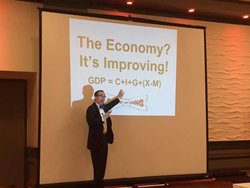 "Economically, Boston is doing much better than the nation as a whole." - Elliot Eisenberg, Ph.D
Stoughton, MA (PRWEB) July 17, 2015
At Randolph Savings Bank'sEconomic Summit breakfast, on May 21, 2015 at Lombardo's in Randolph, economist Dr. Elliott Eisenberg declared: "We are not in a recession!"
In fact, according to Eisenberg, "Based on the current economic data, the chance of a recession in the next six to 12 months is less than 5%." The economy may not be roaring, but it's still moving forward. "Economically, Boston is doing much better than the nation as a whole."
According to MassBenchmarks, journal of the Massachusetts economy compiled by UMass Donahue's Institute's Economic Public Policy Research unit and the Federal Reserve Bank of Boston, Massachusetts's economy has grown at an annualized rate that exceeds the nation's generally positive economic performance since the beginning of 2015. The state's gross product growth has kept pace with the strong national growth for the past two quarters. In short: Massachusetts is doing quite well in terms of growth.
That's not to say that there aren't still areas of concern for Massachusetts business owners: As baby boomers retire the labor force is experiencing the loss of skills and experience, the state's fiscal conditions have deteriorated, income inequality remains an issue – not to mention, the negative effect the recent brutal winters have had on the local economic picture.
However, the current trends described by Dr. Eisenberg paint a bright picture for the remainder of 2015. Positive indicators include the addition of jobs, labor force growth as many workers have re-entered the market, overall population growth, and thriving industries – especially information technology, staffing services, and software.
What are the implications for business owners? Well, the Fed has been under pressure to not raise rates in order to continue to nurture growth. But as the economy strengthens, it is anticipated that rates will slowly increase. "While the Fed is almost certain to raise short-term rates in September or December, don't worry about this," explains Eisenberg. "Unlike in prior interest rising cycles when rates rose quickly in an attempt to slow an overheating economy, this time the Fed will raise rates very slowly as inflationary pressures are quite muted."
This is an exciting time for businesses because the current economic climate may be ideal for taking advantages of opportunities for growth. If a business is considering expansion, construction, the purchase of new equipment or some other large investment, now may indeed be the time to move forward. Not quite ready to make the move? Secure capital now for those objectives before rates rise.
Randolph Savings Bank recommends businesses evaluate their needs in this growing environment. If plans include adding employees to the work force, renovating facilities, or otherwise investing in future growth, take some time to review cash flow projections.
At Randolph Savings Bank, the Commercial team works with businesses every day to evaluate the best means to drive their future. Every organization is unique and therefore requires a partner that takes the time to get to know the individual needs and circumstances of the business. A small business needs a team that doesn't rely on formulas and will develop the financing solution that best satisfies the business's objectives. As opportunities for growth are explored, a consultation with a commercial lender can assist in determining your best course.
As Massachusetts rebounds from more difficult economic times, it is up to Massachusetts businesses to springboard from this economic opportunity to maximize their growth – now and in the years to come.