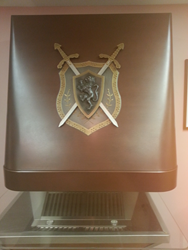 'RangeCraft makes custom hoods but we also do the metal fabrication of many other products,' states company President and Coat of Arms designer Ramona Panus, 'the tooling in our machinery allows us to create custom shapes in any metal and shape.'
Fair Lawn, New Jersey (PRWEB) June 07, 2014
RangeCraft Manufacturing is pleased to announce a new level of customization wth its new "Coat of Arms" range hoods. The Coat of Arms can be added to any hood in the RangeCraft Product Line that has a flat front. The range hood buyer would need to supply RangeCraft with their Coat of Arms to follow in building this custom ornament. Logos, names and other personalization can also be achieved either on a range hood or a decorative piece of art mounted to metal for wall art. Some customers have created a very unique piece of art for over a mantel on a fireplace. The appliques can be made from cold rolled steel, copper, aluminum and brass.
"For decades RangeCraft has made custom hoods but we also do metal fabrication of many other products." states company President and Coat of Arms designer Ramona Panus, "the tooling in our machinery allows us to create custom shapes in any metal and shape so we need to educate people that we are capable of creating range hoods and so much more."
RangeCraft has been a leading industry manufacturer of high quality, custom designed metal range hoods for over 30 years. RangeCraft's Made To Order Hoods are available in over 25 product categories in a variety of shapes and sizes in copper, brass, stainless steel and decorator colors.
Each Rangecraft hood is made one at a time, with superior craftsmanship and the highest quality standards that RangeCraft is well known for. RangeCraft range hoods are Made To Order by trained artisans right in our own factory here in the United States. They are manufactured with powerful quiet fans, exquisite finishing options and complete attention to detail prior to crating for delivery direct to you, your designer or contractor.
These are not assembly line cookie cutter designs that are available from a multitude of manufacturers and all look alike on a showroom wall. Rather, the incredible individuality of the RangeCraft "Made To Order" product line creates its own distinctive touch making it the focal point of the kitchen and creating the "Wow" factor that standard range hoods do not achieve.
To view the complete line of RangeCraft's 25 distinctive designs as well as other metal backsplashes, sinks and countertops visit http://www.rangecraft.com.