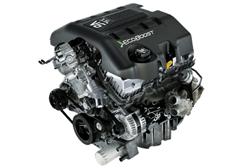 The Ranger 2.3L engines that are posted in our web inventory have been removed from scrapped pickup trucks and these have been cleaned and tested
Knoxville, TN (PRWEB) September 28, 2015
Ford produced its Ranger truck series from 1983 to 2012 in the North American market although there are now plans to bring back this popular automobile next year for consumers. The Preowned Engines company has acquired used Ranger 2.3L engines for sale through its components inventory now posted at http://preownedengines.com/ford-ranger-2-3l-engine.
The units available to consumers include carbureted, CPS and late model blocks in the 2.3-liter displacement. These SOHC builds feature a 9:0:1 or 9:4:1 compression ratio and are rated between 73 and 112 horsepower. Consumers who are interested in a base package warranty will receive this coverage automatically upon purchasing a block for the remainder of this year.
"The Ranger 2.3L engines that are posted in our web inventory have been removed from scrapped pickup trucks and these have been cleaned and tested," said a rep from the PreownedEngines.com company.
Research by VIN number is one method that some automotive parts sellers use to correctly match components for consumers who shop on the Internet. The POE company has eliminated this procedure and has switched to a better research platform to help people who do not have the correct part number to research parts in stock.
"Using our motor search system will be faster for the public thanks to our upgrade to the model year criteria that is now in place," said the rep.
A toll-free number is in place to provide phone support to the public when inquiring about the used Ford truck engines now available for sale at the PreownedEngines.com website. Consumers can contact the support department at 1-866-320-1065 Monday through Sunday excluding federal holidays.
About PreownedEngines.com
The PreownedEngines.com company supplies access to North American salvage parts inventories through its web based network. The company lists thousands of available used motors for a discount price structure. The PreownedEngines.com company has enhanced its supplier relationships in 2015 by including pick-and-pull companies to its inventory for consumers.