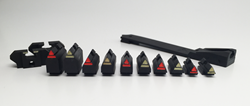 These are the fastest rifle iron sights on the market and the only flush mount dovetail fillers.
Cypress, TX (PRWEB) April 05, 2017
Ranger Point Precision, a leading innovator and producer of lever-action, bolt-action and AR-style hand-built rifles, pistol / rifle performance parts, and gunsmith services, today announced the availability of a family of new 3/8" .375 dovetail products for rifles including: steel flush mount slot blank fillers; and a rear oval shaped aperture sight and triangular front sights for faster target acquisition (night sight options available).
Ranger Point rifle sights incorporate an oval aperture and scope-like reticle bars on the rear sight and a triangular shape on the front sight with horizontal aiming notches for faster target acquisition over traditional open, iron sights. They offer a better, brighter sight picture in full light or low light (day and night sight options), primary and secondary aiming points out to greater distances "on the fly," and are a hand slip fit that can be installed in minutes. The precision machined steel dovetail fillers flush mount onto the rifle barrel and install in minutes.
Ranger Point Universal 3/8" Dovetail Rear Sight

The brightest, clearest sight picture with a wide oval shaped aperture for good light throughput and scope-like "reticle bars" to align with your front sight (day or night sight options)
Elevation adjustable "on the fly" from .340 to .450 height without the need of punches or hammers
CNC machined from 7075 aluminum and anodized black (Lightweight, high strength, rust proof)
1/2" width x .340" to .450" height (adjustable elevation) x 3.4" length
Package: Dovetail Sight, Dovetail Ramp, Allen wrench, three steel set screws
*Also available for Marlin Firearms and Henry Repeating Arms rifles as a rear backup sight that flush mounts to the front of a scope mount picatinny rail.
Ranger Point 3/8" Dovetail Front Sights

Triangular sight shape allows for easy target acquisition (day or night sight options)
Horizontal elevation notches act as "secondary aim notches" for on the fly shooting from 100 yds to 200, 300...
Windage adjustable without punches or hammers
CNC machined from 7075 aluminum and anodized black (as strong as steel but does not rust)
Fits standard 3/8" dovetail in barrel or sight ramp and come in five heights: .235", .300", .365", .420", .535".
Package: Front Sight, Allen wrench, two set screws.
Here's a link to a Video that shows how the sights work on a Marlin Lever-Action rifle (both the day and the night sights)
3/8" Dovetail Slot Blank Fillers

Specially machined to "flush mount" on round rifle barrels (.850 and .900"); remedy the usual unsightly dovetail filler "bulge"
Install in minutes saving the usual filing time necessary to fit dovetail blanks
Machined out of steel and blued (also offered in stainless)
"Our drop-in aftermarket parts are an extension of what we do in our custom shop. Their design follows our mission statement of building the best performing, most practical and innovative firearms for hunters and shooting enthusiasts," said Adam Devine, Co-founder and President, Ranger Point Precision.
Along with the company's other machined parts such as big loop levers, the 70P / 70PSS Papoose AR-style handguard, RHINO scope mount picatinny rails, Magpul M-LOK forend accessory panels, muzzle brakes and flash hiders, slings, and Steyr A1 pistol steel guide rods and reduced power springs, the new 3/8" dovetail rifle sights and slot blank fillers are available for purchase in the store at RangerPointStore.com.
###
About Ranger Point Precision
Located in the Houston area in Cypress, TX, Ranger Point Precision (RPP) is a leading innovator and producer of lever-action, bolt-action and AR custom-built precision rifles and performance parts, gunsmith services, match grade barrel swaps and threading, and paint coating services. With expertise in Marlin Firearms, Henry Repeating Arms, Steyr A1 Pistols and dozens of other rifle and handgun brands, and a CNC equipped shop, RPP will apply our engineering, coatings and gunsmith experience to the performance, maintenance, repair, enhancement, and refurbishing of your modern firearm. To learn more, please visit us at http://www.RangerPointPrecision.com.