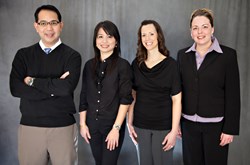 Our goal with this new video was to reach those people, and show them that yes, we can be of service to them. Our ultimate goal as healers is, after all, to improve their lives.
Apple Valley, MN (PRWEB) October 29, 2013
Dental specialty practice Adarve Prosthodontics today announced that a brand new promotional video featuring the practice is now ready for public viewing via YouTube. The video showcases the state-of-the-art facility and unique services offered by Dr. Ranier Adarve and his staff.
Dr. Adarve's dental specialty practice makes use of the most cutting edge technologies available to the field of prosthetic dentistry today. The support staff at Adarve Prosthodontics are highly trained in both the technical and support service aspects of prosthetic dentistry. The result is a dental specialty practice that is warm, caring and healing environment for patients both young and old throughout the greater Apple Valley area and adjacent cities.
"I developed this high-tech yet high-touch dental office to cater to the needs of patients who need dental specialty services," said Dr. Adarve. "We work with referring general dentists and other dental and medical specialists to provide the best possible care for their patients."
Adarve Prosthodontics provides specialty dental services including Full Mouth Rehabilitation, Dental Implants, Implant-supported and retained Prosthesis, Complete Denture, Partial Dentures, Crowns, Bridges, Veneers, Cosmetic Fillings, Teeth Whitening and other Restorative and Cosmetic Dental Services.
Adarve Prosthodontics commissioned the video in part to showcase their facility and services, but also to inform prospective patients about the life improving possibilities available to them through prosthodontics.
"Our particular field is very unique, and many patients who could benefit from our services may not know who to turn to for the services they need for increased quality of life," said Dr. Adarve.
"Our goal with this new video was to reach those people, and show them that yes, we can be of service to them. Our ultimate goal as healers is, after all, to improve their lives."
For more information Contact:
Adarve Prosthodontics, LLC
15322 Galaxie Ave Suite 205
Apple Valley, MN 55124
Phone: 1-888-601-7720
Fax: 1-877-705-7888
Email: info(at)adarveprosthodontics(dot)com
http://www.adarveprosthodontics.com
About Dr. Ranier Adarve
Dr. Ranier M. Adarve, DMD, MS, MHPE, Prosthodontist, is a highly trained and experienced dental specialist with impeccable educational background. Great institutions all over the world molded his training and experiences. He earned his double masters degree, certificate and professional programs from Harvard Macy Institute (2010), Noble Biocare Training Institute (2010), University of Minnesota Graduate School (2005), University of Minnesota Graduate Prosthodontic Program (2005), University of Minnesota College of Educations (2005), University of the Philippines- National Teachers Training for Health Professionals (2002) an University of the Philippines College of Dentistry (1996).
He is also an international dental educator with exceptional academic and scholarly record. He taught at University to Minnesota School of Dentistry (current), Oregon Health and Science University (2005-2007), University of the Philippines (1998-2002) and Emilio Aguinaldo College (1996-2002). In 2012, Dr. Adarve was the Recipient of the Teaching Excellence Award given by the American Dental Educators Association for his outstanding contribution and innovation in dental education. This award is only given to one individual among all the dental educators of US and Canadian Dental Schools and Colleges.
Currently, Dr. Adarve is a member of the faculty of the Department of Restorative Sciences Division of Prosthodontics, where he is appointed as the Course Director for Pre Clinical Fixed Prosthodontics. He also holds various teaching and service roles for undergraduate dental students, International students, and Graduate Prosthodontic residents.
Dr. Adarve is an active member of American College of Prosthodontist (ACP). He is also actively involved in American Dental Education Association (ADEA) since 2004. He became the President of the Educational Research / Development and Curriculum Section of the ADEA in 2011. He is also the most published author in MedEdPORTAL, a publication service that promotes educational scholarship to medical and dental educators and provided by the Association of American Medical Colleges in partnership with the American Dental Education Association.
Dr. Adarve is a practicing Prosthodontist. He is a consultant of the Minnesota Board of Dentistry for Prosthodontics and also a liaison to Central Regional Dental Testing Center (CRDTS). He lectures locally and internationally and runs a study club for general dentist.