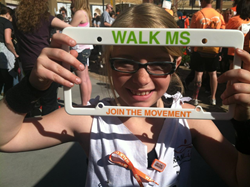 We will continue supporting MS until we find a cure.
Salt Lake City, UT (PRWEB) April 30, 2014
RANLife, a full service mortgage broker, sponsored a booth and raised over $2,500 for the Walk MS Salt Lake City Event which took place on April 26th, 2014. RANLife has partnered with the National MS Society for the second year now as an effort to raise funds and awareness about MS. Though RANLife sponsors many community events throughout the year, Walk MS is always one of their biggest events.
From March 1st to April 26th, RANLife agreed to match all donations from their employees towards the MS Society. The donation goal was $2,500, which was exceeded before the day of the event. Besides just matching donations that were given, RANLife also provided a team T-shirt to anyone that contributed.
"A big thanks to all of our employees, family, friends, and clients that helped us reach our donation goal for the second year in a row," commented Jaymie Tarshis, the marketing representative for RANLife. "It's been an honor to be a part of this event for two years now and to support those that have been affected by MS."
The funds raised from RANLife and the event help to give hope to more than 6,000 people living with MS in the local community. The dollars raised support life-changing programs and cutting-edge research. Every dollar and every connection counts.
RANLife first got involved with the Walk MS Salt Lake City Event after finding out that two of their employees were diagnosed. "MS really hits us close to home, which is why I think many of us within our company are so dedicated to this campaign," said Tarshis.
There are currently FDA approved medications to help with MS, but nothing has been proven to cure it yet. RANLife's mission is to raise support and awareness for MS with more involvement and donations to come each year. "We will continue supporting MS until we find a cure," commented Tarshis.
About RANLife Home Loans
You're one step closer to home with your loan from RANLife. RANLife closes home loans up to three times faster than the competition. The road to finding your dream home can be a long one but with RANLife Home Loans, you can get there faster. NMLS# 3151
Follow RANLife Home Loans on Facebook at http://www.facebook.com/ranlifehomeloans.
And stay up-to-date on the Home Lending Life blog at http://blog.ranlife.com.