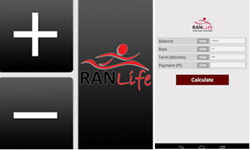 This is just the beginning of mobile applications for RANLife.
Salt Lake City, UT (PRWEB) February 12, 2014
RANLife Home Loans, an industry leading mortgage lender, released their first mobile application known as the Four In One Mortgage Calculator, currently available for free download on the Google Play Store.
With the new 4-in-1 amortization calculator from RANLife Home Loans users will not only have the option to compute their estimated monthly payment, but will also be able to calculate any empty field as long as the other 3 fields are filled out. Other fields include loan amount, mortgage interest rate, and loan term.
"It's a wonderful resource to have around if you need a fast and easy way to calculate a monthly payment, your original loan amount, your original monthly payment amount, or what your interest rate you are currently paying," stated marketing representative, Jaymie Tarshis.
Other features of the application include the ability to view and check today's interest rates as well as apply for a home loan or refinance directly from within the app. Because RANLife offers some of the most competitive rates around, they wanted their users to have a quick and easy way to stay up to date and compare rates.
RANLife's application was officially released on January 31st, 2014. Since the time of release reviews have started to flood in, with an average rating of 5 stars.
RANLife is looking to the future and implementing more mobile capability for their clients. "This is just the beginning of mobile applications for RANLife," stated Tarshis. Stay tuned for more applications to be released by them in the near future.
About RANLife Home Loans
You're one step closer to home with your loan from RANLife. The road to finding your dream home can be a long one but with RANLife Home Loans, you can get there faster. NMLS# 3151
Follow RANLife Home Loans on Facebook at http://www.facebook.com/ranlifehomeloans.
And stay up to date on the Home Lending Life blog at blog.ranlife.com.