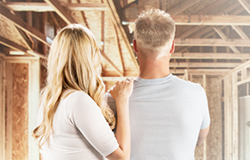 I'm on the borrower's team. If I can put them in a new home, exceed their expectations and give them a little cash at closing, then I've done my job and more.
Salt Lake, Utah (PRWEB) March 20, 2014
RANLife Home Loans, a nationwide mortgage lender, has announced the extension of their New Home Build Incentive for prospective home buyers. The incentive was originally introduced last July to support the return of the housing market, and because of the huge amount of popularity and success with the program they are extending the deadline from March to August 2014.
RANLife's New Build Incentive credits the borrower of a home which has not been previously occupied, up to $5,000. There used to be a minimum required loan amount of $200,000, but that requirement has since been removed to accommodate lower income areas.
RANLife originally created this incentive home grant program to build relationships with builders and also offer a more affordable option for those wanting to purchase a home. According to one of RANLife's expert Loan Officers, Kevin Day, "By offering this incentive, RANLife is helping aid both home builders and buyers in the cost of a new home."
There are many benefits to borrowers that purchase a new home versus a preexisting home:
1. With a new home you can work with the builder to customize your home while previously occupied homes come as is, where usually you are responsible for your own upgrades.
2. Issues with appraisals are far and few between, if not nonexistent.
3. There are no worries about preexisting problems that are not visible.
4. New homes usually come with a builder warranty.
5. You can get up to $5000 credit in closing costs.
This incentive has helped many RANLife clients get into a new home. "My clients don't have to bring anything to the closing table other than their down payment, sometimes even less," said Day.
Recently Day closed a loan for a client that who also took advantage of one of RANLife's 100% financing programs. Because of the USDA No Money Down program that they used, the clients even got a credit back at closing and were able to put some extra funds towards the principle of their loan. "I'm on the borrower's team. If I can put them in a new home, exceed their expectations and give them a little cash at closing, then I've done my job and more," commented Day.
RANLife has extended the program to August 31st, 2014 but might consider extending it again if the program continues to flourish.
"There hasn't been a better time in the market to buy a new home," said Day. Rates are on the rise but are still at historical lows and home values are climbing so just about anything bought now will have value in the future.
To find out more information on RANLife's New Build Incentive, please click here or fill out an application online.
About RANLife Home Loans
You're one step closer to home with your loan from RANLife. The road to finding your dream home can be a long one but with RANLife Home Loans, you can get there faster. NMLS# 3151
Follow RANLife Home Loans on Facebook at http://www.facebook.com/ranlifehomeloans.
And stay up to date on the Home Lending Life blog at blog.ranlife.com.