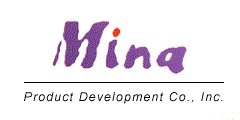 We specialize in taking napkin sketches and turning them into market ready products.
Costa Mesa, CA (PRWEB) January 09, 2014
Southern California product development firm, Mina Product Development, started developing innovative products for clients over 26 years ago. "We started out casting housings for medical products in a one car garage in Long Beach," recalls CEO Babek Khamenian. "Now we are a full service design, engineering, rapid prototyping and manufacturing partner for new and established brands."
"We've been working on some exciting projects and are proud to attend CES this year to showcase our recent work," said Khamenian.
Mina Product Development has recently collaborated with several successful Kickstarter projects, such as Oculus Rift, to help bring their project to market. "For Oculus Rift, we are manufacturing their rapid prototypes and low volume initial production," said Khamenian.
"Crowdfunding project creators usually have fantastic ideas, but need help turning their dreams into a reality. We specialize in taking napkin sketches and turning them into market ready products," said Khamenian.
Khamenian's firm utilizes a two phase rapid prototyping process, something that works well for newcomers in the consumer electronics industry.
"We've found that a lot our clients frequently make changes to their designs as they navigate their way through the design, engineering, and prototyping process. It's inevitable."
Mina starts it's clients off with a 3-D printed prototype to get a basic model to see, touch and test. Then the model is duplicated with silicone molds. Once the silicone molds are made, clients are able to get as few as one sample or as many as a few hundred.
"Frequently our clients need pre-production models to field test for various reasons. Sometimes it's for packaging, marketing, or sales meetings. Our silicone molded products allow our clients to get a working model without having to pay for the tooling." This saves Mina's clients money as changes at this phase are still financially feasible.
Mina Product Development has designed and manufactured medical equipment, aerosol actuators, golf clubs, cell phone cases, water bottles, military hardware, wearable technology, and party glasses among others. "We're incredibly excited to meet new partners at CES and see where 2014 takes us," said Khamenian.
To learn more about Mina Product Development's rapid prototyping, you can visit them in person at the Consumer Electronics Show in Las Vegas Nevada. They are located in the Gold Pavilion, booth 80035. If you can't make the show you can visit their website at http://www.minaproducts.com or call their office at 714-966-2150.