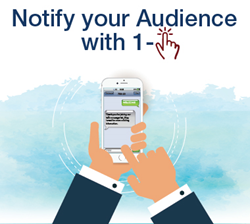 Thanks for assisting Replacements in improving our emergency response. I have been very impressed with your company and the services provided at a reasonable cost.- David Willsie, Replacements
Irvine, CA (PRWEB) June 15, 2017
Rapid Notify provides a comprehensive suite of emergency notification, mass notification and incident management services. Our reliable and cost-effective mass notification solutions help people to connect during a crisis, manage operational incidents and other communication activities.
Rapid Notify is very excited to announce another new feature called 'Rapid Event Notifications'. It is an optional feature to add-on which allows an individual to text a keyword for any special event being held by the client. The cell phone is enabled to receive a text and/or voice message related to the event. The client can archive the list once the event is completed (archived list will be date and time-stamped automatically, and the list will be cleared and ready for the next event).
For communication with attendees at a specific, time-defined event, such as an athletic event (football, baseball, basketball, soccer, etc), entertainment event (concert, theater, etc.), business event (Trade show, convention, etc.). Attendees can text a key-word (Client-defined) to a SMS Text short code that will add client to a notification list for the duration of the event. Notification list can be used to send emergency or non-emergency text messages (voice also available) to the list participants to provide instructions in case of an emergency, or for non-emergency communications such as parking instructions, event agenda, etc.
For more information/questions, please feel free to reach : +1-800-910-1784 or info(at)rapidnotify(dot)com