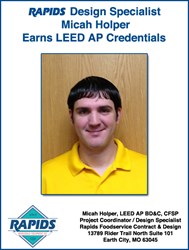 St. Louis, MO (PRWEB) September 10, 2013
Rapids contract and design specialists are determined to help business owners save money using energy efficient, sustainable food service practices. Micah Holper, a design specialist at Rapids' St. Louis branch, recently bolstered Rapids' knowledge and credentials when it comes to the Leadership in Energy and Environmental Design Program, or LEED, a U.S. Green Building Council initiative.
"This will help us better integrate the design process with other trades if the building is planning to go for LEED certification or even just plans on trying to be more sustainable," Holper said.
After two rounds of rigorous testing and practice working on a project, Holper earned his LEED AP credentials in building design and construction. This means he's equipped with knowledge and credentials to help businesses earn LEED certification for their business designs and buildings. Once certified, these businesses can save on expenses, qualify for tax credits, and prevent harm to the environment.
Holper hopes to use his wealth of knowledge to raise business owners' awareness when it comes to total operation costs. He aims to help those in the food service industry facilitate sustainable design solutions. He also seeks to combat the notion that significant energy savings is unobtainable when it comes to food service necessities — equipment apt to gobble energy if they lack an energy efficient design.
"We can get in earlier in the process and shake the thought there is nothing that can be done in the foodservice portion of projects," Holper said.
Holper can offer a multitude of suggestions when it comes to green practices and energy efficient, cost-effective equipment. He recommends business owners choose low flow pre-rinse set-ups, upgrade to LED lighting, capture and reuse ice machine water, and opt for vent-less dish machines.
Christie Hodnefield, a certified contract interior designer at the Rapids office in Marion, is also familiar with LEED and energy-efficient equipment. Hodnefield recommends business owners pit low up-front costs against potential energy-savings. She said this practice is especially crucial when it comes to large items like refrigerators and ovens.
Wise choices up-front on energy efficient equipment can lead to cost savings, Hodnefield said. Businesses with LEED certification reduce energy, water, and waste expenses, she added.
"It is improving indoor environment quality benefiting the health and well-being of the building occupants," she said. LEED certification builds also awareness of an individual's impact on the environment, Hodnefield said.
Hodnefield, Holper and other associates at all four Rapids locations are prepared to help customers when it comes to energy efficient choices. Customers seeking information on energy efficient equipment and sustainable project designs can call 1-800-472-7431 to reach an associate.