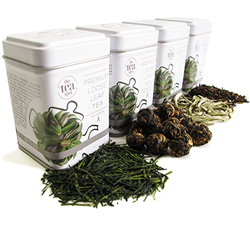 Boulder, Co (PRWEB) June 18, 2015
The Tea Spot, a leading producer of whole leaf teas, has recently expanded their premium tea offerings with a new tea collection of limited-edition exotic teas. The Rare Tea Collection features a range of teas which span in origin from the southernmost island of Japan to China's Yunnan and Fujian Provinces. These regions have come to master the art of tea production over millennia. All teas in this collection are sold only in The Tea Spot's air-tight signature tea tins to best preserve the integrity of the tea leaves.
This rare tea collection includes exotic boutique teas such as:
Organic Black Pearls – A rare, spring-harvested black tea from Yunnan Province, China, with aromatic earthy tones. When steeped, the large hand-rolled pearls unfurl, releasing notes of caramelized sugar and cocoa.
Golden Pu'erh – This aged and fermented tea from Yunnan, China, steeps into a robust and earthy full-bodied brew. The golden tips are evidence of the high quality hand-picked tea leaves, and yield a smooth, round finish.
Organic Silver Needle – Named for the tiny silver hairs that coat the young tea leaves, this delicate white tea from Fujian, China, imparts subtle honeysuckle notes followed by a clean finish. Its subtle caffeine lift acts as a mild stimulant to both refresh and relax.
88th Night – A high-quality Japanese shincha (first-flush spring green tea) with a prominent cherry blossom aroma and rich umami flavor. Named for its traditional harvest eighty-eight nights after the Japanese Lunar New Year, this tea hails from Kagoshima, a southwestern island of Kyushu, Japan.
Organic Matcha – This USDA certified organic matcha from Kyushu, Japan, has naturally sweet notes layered on top of a fresh verdant flavor. This fine stone-ground organic green tea powder is a natural source of antioxidants with a vibrant color, grassy aroma, and sweet umami finish.
The first four teas in the Rare Tea Collection (Organic Black Pearls, Golden Pu-erh, Organic Silver Needle, and 88th Night) are available as a set in the Connoisseur Tea Sampler, a collection of four mini tea tins. All of the offerings in the collection are also available for individual purchase.The Rare Tea Collection is only available for a limited time, while supplies last, and can be purchased at theteaspot.com. Individual teas in the collection are available in 1.3 and 5.0 oz. tins and the Connoisseur Tea Sampler includes four premium tea tins of handcrafted loose-leaf rare teas, totaling 4.1 ounces, for $34.50.
###
About The Tea Spot: The Tea Spot is a leading producer of handcrafted whole leaf teas and the creator of Steepware®—innovative tools that make the premium tea experience effortless and accessible. The company's focus has held steadfast since the for-profit philanthropic company was founded by Maria Uspenski in 2004, a cancer survivor drawn to the health benefits of leaf tea during her recovery. Her message is simple and powerful: tea in its freshest form renders premium flavor, unmatched health benefits, and is eco-friendly. The Tea Spot's philanthropic 10% Pledge incorporates its mission to foster health and wellness through loose leaf tea. Ten percent of the company's sales are donated in-kind to cancer and community wellness programs. The Tea Spot is a Colorado-based Certified B Corporation, woman-owned and operated business. theteaspot.com