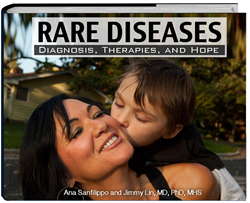 Millions of people with debilitating genetic diseases can finally be diagnosed with sequencing, but unfortunately they don't know about this revolution in genomics, yet.
St. Louis, MO (PRWEB) April 23, 2014
To celebrate Undiagnosed Children's Awareness Day, the Rare Genomics Institute (RGI) announces a new resource to help the more than 300 million people globally affected by rare diseases. Covering both the latest scientific developments in genomics as well as highlighting inspiring stories of families overcoming the incredible odds, this book is designed to educate and inspire.
"Our hope is that this free and valuable resource reaches as many people as possible – to encourage and educate these families in the fight against rare diseases. We are proud of this work and so thankful for the many people who shared their wisdom and experience with us," said Jimmy Lin, MD, PhD, MHS, co-author of this book.
The book includes:
Remarkable stories from families living with rare diseases:

Amylynne Volker, whose son was the first child saved through DNA sequencing
Dallas police officer Mark Dant who raised over $3M for research that saved his son Ryan's life
John Crowley, who saved his own children's lives through creating a new company to develop new drugs, which is now the standard of care
Retta Beery, whose twins, Noah and Alexis, are alive due to her own exhaustive medical research and genomics
Many interviews with genomics experts, top doctors and researchers:

Dr. Kary Mullis, Nobel Prize winner, whose breakthrough discovery helped enable the genomics revolution
Dr. Emil Kakkis, one of the world's most successful developers of rare disease therapies
Dr. Ada Hamosh, Clinical Director of Genetic Medicine at Johns Hopkins Hospital, shares her advice for parents of kids with rare and undiagnosed diseases
Dr. Jimmy Lin, who created an innovative model for funding and analyzing rare diseases in children
A Demystifying Genomics chapter gives an overview of the current state of rare and undiagnosed diseases and the role of genetics and genomics.
A Parent's Toolkit provides families and patients with best practices and useful tips on coping with rare diseases.
"We are part of a growing movement to raise global awareness of rare diseases. We are so pleased to offer this book focused on helping families navigate rare diseases in the age of genomic medicine," said the book's co-author Ana Sanfilippo. "It's been a privilege to work with so many experts including world-class physicians, leaders in top biotech companies and a Nobel Prize winner - who all share their deep insights for rare disease parents. At the same time it's been very rewarding to work with the courageous parents who opened their homes and shared their stories to help other families."
About Rare Genomics Institute
RGI is a non-profit that makes cutting edge research technologies and experts accessible to rare disease patients. Partnering with top medical institutions, such as Harvard, Yale, Johns Hopkins, and Stanford, RGI helps custom design personalized research projects for diseases so rare that no organization exists to help. By providing an expert network and an online crowdfunding mechanism, RGI helps families source, design, and fund personalized research projects in diseases not otherwise studied. Ultimately, RGI aims to expand on its current genome sequencing-focused approach to enable community funding to support whatever type of research is necessary to get closer to rare disease therapeutics.

About the Co-Authors
Jimmy Lin, MD, PhD, MHS, is a 2012 TED Fellow and Founder & President of Rare Genomics Institute, the world's first platform to enable communities to leverage cutting-edge biotechnology to advance understanding of rare diseases. Previously, Dr. Lin was a medical school faculty member at the Washington University in St. Louis and, while at Johns Hopkins, led the computational analysis of the first ever exome sequencing studies for any human disease. He has numerous publications in Science, Nature Genetics, Nature Biotechnology, and Cell and has been featured in Forbes, Bloomberg Businessweek, Wall Street Journal, Washington Post, BBC, TIME, CNN, and the Huffington Post.
Ana Sanfilippo is the President and Founder of Linde Consultants, a healthcare consulting firm. She has extensive experience in the pharmaceutical industry in sales, marketing and training. Ana advises healthcare organizations on strategy, customer engagement, and product development. She has a deep understanding and focus on patient needs. Ana has a BS in Business Administration from the University of Illinois at Urbana-Champaign and an MBA with Distinction from Kellstadt Graduate School of Business at DePaul University with specialization in Health Sector Management and Change Management / Leadership.