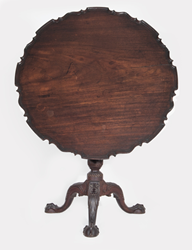 "This newly discovered Chippendale tea table from the shop of Philadelphia cabinetmaker Henry Clifton is truly a tour de force." - Leigh Keno
New York/New York (PRWEB) January 30, 2015
According to Leigh Keno, this newly discovered Chippendale tea table from the shop of Philadelphia cabinetmaker Henry Clifton "is truly a tour de force. As a unique signed work, it sheds light on some of the world's most famous Colonial creations from this important and previously un-named shop." Keno adds, "The modern art works by Calder, Asawa, and Beard are not only beautiful but increasingly valuable assets. And we are also extremely pleased to be able to work with Seth Kaller in offering a select collection of rare documents, including the Bill of Rights. All told, we are offering thirteen extraordinary items."
Highlights of the January 31 sale include:

The Potter-Crouch-Jordan Family Chippendale mahogany tea table, a rare survival of Pre-Revolutionary craftsmanship signed by one of the more well-known Philadelphia cabinetmakers, Henry Clifton, whose extremely active shop employed some of the very best carvers in Philadelphia. The table has descended in the family of the original owners for over 250 years and remarkably, retains its original finish. If one employs the four factors used to evaluate a scalloped-top Philadelphia tea table; quality, rarity, condition and provenance, this example ranks at the very top, representing the apogee of Philadelphia Rococo craftsmanship. Estimate $500,000- $2,000,000
Thomas Holme's extremely rare 1687 map of Pennsylvania, called the "greatest of early American maps." The detailed map is one of eight copies known and the only one in private hands. Estimate $200,000-$300,000
One of William Penn's earliest land deeds, from March, 1682, selling 500 acres to Thomas Saunders, making him a "First Purchaser" entitling him to an additional lot in the town of Philadelphia—now part of Independence Mall. Estimate $10,000-$20,000
Three rare 1789 issues of the New York Gazette of the United States newspaper containing:
o The earliest obtainable printing of the Bill of Rights.
Estimate $30,000-$60,000
o Washington's first presidential Thanksgiving Proclamation. Estimate $15,000-$30,000
o Benjamin Franklin's anti-slavery address and Washington's address the Reformed Dutch Church. Estimate $4,000-$8,000

A unique 1769 Sons of Liberty document capturing patriotic toasts
for the fourth anniversary of Boston's Stamp Act Riot.
Estimate $20,000-$30,000

Two works by modernist master Alexander Calder (American, 1898-1976):
o "Pig's Tail", 1968, a red, black and white painted steel, brass and wire standing mobile. Estimate $50,000-$100,000
o "Spotted Orb and Pyramids," 1956, gouache.
Estimate $20,000-$40,000

A fabulous orb sculpture by Ruth Asawa (American, 1926-1913) that dates to 1973. Estimate $150,000-$250,000
These lots are currently on preview from 10 a.m. to 5 p.m. Friday and on Saturday, the 31st (day of the sale) at Keno Auctions Townhouse, 127 East 69th St., New York, NY 10021.
Complete descriptions of the lots are on the Keno Auctions website here.
About Leigh Keno
Leigh Keno is founder and president of Keno Auctions. During his nearly 40 years in the auction business and as a dealer, he has helped build some of the top institutional and private collections of paintings, furniture, and decorative arts in the world. His specialties range from 18th Century American furniture and Folk art to modern paintings and sculpture and rare historic automobiles from the 1930's through the 1980's.
About Seth Kaller
Seth Kaller is a leading expert in acquiring, authenticating, and appraising rare historic documents and artifacts. Kaller has built museum-quality collections for individuals and institutions, as well as legacy collections for philanthropists. He has handled important manuscripts, documents, and rare books ranging from the Declaration of Independence to The Emancipation Proclamation; and Robert E. Lee's farewell to his troops.