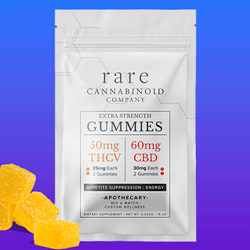 There is no one-size-fits-all product. We want people to learn about the benefits of full spectrum CBD and THC oils and how they can be enhanced with specific cannabinoids for their unique needs.
HONOLULU (PRWEB) February 08, 2023
Rare Cannabinoid Company has announced a special offer for customers to try their extra strength THCV gummies for appetite suppression and energy and CBD gummies for stress resilience.
The premium Hawaiian company is encouraging cannabis and hemp enthusiasts, and those curious about the plant's wellness effects, to sign up for their newsletter. All new mailing list recipients will receive a coupon code for a packet of free THCV gummies and CBD gummies. The offer is visible in a pop up from Rare Cannabinoid Company's website.
"Our company is focused on education and we like to share the latest research and scientific studies on CBD, THC, rare cannabinoids, and terpenes," said a company spokesperson.
"There is no one-size-fits-all product. We want people to learn about the benefits of full spectrum CBD and THC oils and how they can be enhanced with specific cannabinoids for their unique needs. For example, THCV acts like a stimulant, boosting energy and decreasing hunger, while CBG oil may be beneficial for discomfort and CBN for sleep," they said, explaining the usefulness of the information in their weekly newsletters.
Examples of recent emails include subjects such as:
CBD for Sex: Ahead of Valentine's Day, they looked at studies on CBD, Delta-9-THC, and specific cannabinoids for potential stimulation, lubrication, soreness, intimacy, and more.
Delta-9-THC Facts: They covered where to buy Delta-9-THC Gummies, how to know if they're legal, where Delta-9-THC gummies will ship to, Delta-9 vs Delta-8-THC, Delta-9-THC vs THCV and more.
CBDV Autism Studies: The newsletter showed links to animal studies and human trials of CBDV (cannabidivarin) and information on where to buy CBDV oil.
In addition to sharing the latest hemp and cannabis news and links to research, Rare Cannabinoid Company also sends mailing list recipients company news, special offers, and unique discounts.
For their THCV gummies and CBD gummies offer, Rare Cannabinoid Company is giving away 300 packets of the extra strength CBD and THCV edibles.
Their THCV gummies contain by far the largest amount of THCV oil in any THCV gummies for sale online or in stores. Each gummy has 25mg THCV. They are vegan and naturally lemon flavored.
CBD gummies contain 30mg CBD oil and are vegan and naturally strawberry flavored.
Each packet contains two THCV gummies (50mg THCV total) and two CBD gummies (60mg total). Rare Cannabinoid Company recommends taking half to one THCV gummy and combining it with half to one CBD gummy. It is best to take THCV earlier in the day as it can increase energy while suppressing appetite. The reason for combining the CBD and THCV edibles with each other is to promote the entourage effect, whereby each cannabinoid has a greater effect when taken together than it would on its own.
There is no purchase necessary for people to receive the free THCV gummies and CBD gummies packet. Rare Cannabinoid Company always offers free U.S. shipping on orders over $50.
The company is encouraging people to claim their free THCV gummies quickly as the offer will end when the 300 packets have been given away.
Rare Cannabinoid Company grew out of its sister brand Hawaiian Choice CBD Oil, which was established in 2017. The Hawaiian company uses premium full and broad spectrum CBD oil grown on the island of Maui as well as hemp-derived rare cannabinoids carefully extracted from legal, American-grown crops. All products are produced in a cGMP facility and contain no GMO, pesticides, herbicides or heavy metals. Third-party lab results can be found online.
Products include oil tinctures, gummies, topicals, and CBD for pets (CBD for dogs and cats). Cannabinoids for sale include: CBC (cannabichromene), CBDA (cannabidiolic acid), CBD (cannabidiol), CBDV (cannabidivarin), CBGA (cannabigerolic acid), CBG (cannabigerol), CBN (cannabinol), Delta-9-THC (Delta-9-tetrahydrocannabinol), THCV (tetrahydrocannabivarin), as well as terpene-only tinctures and broad spectrum Hawaiian Choice CBD oils infused with terpenes and Hawaiian fruit extracts.
In addition to their website, customers can buy THCV gummies and selections of their products in scores of locations across the United States, Asia, and South America. Brick-and-mortar stores interested in stocking Rare Cannabinoid Company and Hawaiian Choice products can visit their wholesale website Wellness Orders to learn more and fill out an application.