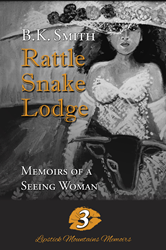 The story is just about everything one ever wanted to know about sex, drugs and "vermicomposting." A hearty nod to Darwin.
NEW YORK, NY (PRWEB) September 10, 2015
Readers and critics alike are rejoicing the anticipated release of the newest #3 installment of author B.K. Smith's "The Lipstick Mountains Memoirs." The contemporary narrative titled, "RattleSnake Lodge, Memoirs of a Seeing Woman," was published in July by Lipstick Mountains Press and is already receiving rave reviews.
Smith has been praised for creating stories where women are projected as complex and intellectual as well as sexual. Her characters balance sex and purity, faith and reason and assert themselves as both capable and vulnerable in a world of powerful men. It is a representation of the modern woman that has resonated with readers.
"This book is a must read not only for enjoyment and entertainment but for those interested to see the development of B.K. Smith as an emerging prominent author of our time," said one enthusiastic review on the book's Amazon.com site.
This particular installment in the series transports readers to the small town of Santa Salsa, on the southern border of Texas. The plot revolves around heroine, Amanda French, a stylish, corporate woman who decides to walk away from the big city life in search of something simpler. Smith's story turns quickly and French finds herself in a far more intense situation than she had anticipated, bearing witness to a crime that changes the course of history. The story is just about everything one ever wanted to know about sex, drugs and "vermicomposting." A hearty nod to Darwin.
Readers can expect to be quickly drawn into Smith's imaginative and spellbinding world with her impressively descriptive writing. The stories are gritty, accurate, and well-detailed to a point where there is almost a palpable understanding for the reader.
The series of ten began in July of 2014 with "Chelsea Matinee, Memoirs of an Easy Woman" and attracted widespread attention from readers and reviewers alike. The story of seduction and abandonment takes place in the 1970's and tells about a woman, Stella, who leaves idyllic Wisconsin for the frenzy of New York City to pursue her passion: painting. Instead, she meets and unwittingly falls for a wise guy and the danger and intrigue ensue.
Shortly thereafter, Smith published "Sands Point, Memoirs of a Money Trader"—an exposé of deception during the money-obsessed eighties on Long Island's North Shore. The fourth installment of the acclaimed series, titled "Manifest Destiny, Memoirs of a Dreaming Woman" takes place in the spiritual native southwest and is set for release in early 2016.
"The Little Black Dress of Contemporary Literature."
In addition to this series, Smith has also penned, 'The Stiletto Stories' (novelettes), short readers, beginning with 'Just Desserts' (featured in Poetica Literary Magazine 2015) and 'Laina and the Vamp'. Coming soon.
About B.K.Smith:
Author B.K. Smith has worked on Madison Avenue, Seventh Avenue and Wall Street; she attended New York Medical College, the Fashion Institute of Technology, The New School for Social Research, and ASU. She writes in New York City and Arizona.
The Lipstick Mountains Memoirs (ebooks and blogs).
The Stiletto Stories (Novelettes)
Madison Avenue Publishers, LLC. (info(at)MadAvePub(dot)com) 2015
About eBookIt.com
Since 2010, eBookIt.com (based in Sudbury, Massachusetts) has helped thousands of authors and publishers get their books converted to ebook format, and distributed to all the major ebook retailers, including Amazon.com, Barnesandnoble.com, Apple iBookstore, Kobo, Sony Readerstore, Ingram Digital, and Google eBookstore.