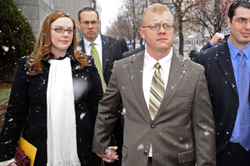 We continue to believe in the innocence of these men, and they continue to have our full love and support
Washington, DC (PRWEB) April 01, 2015
Friends of Raven 23, the group advocating on behalf of convicted Raven 23 team members, is announcing a press conference to take place immediately following the team's sentencing on April 13th in Washington, DC. The former Blackwater Security team members (known as "Raven 23" or in some documents the "Blackwater 5") were found guilty following a lengthy and complex legal process in the fall of 2014 for a shooting incident that took place in Nisur Square, Baghdad, Iraq, in 2007 (Case 2008-0360, US District Court, Washington, DC).
The sentencing will take place April 13th, 2015 at the US District Courthouse in Washington, DC at 333 Constitution Avenue NW. The team members face between 30 years to life in prison based on their convictions and minimum sentencing requirements. All four members of the team have maintained their innocence and vowed to appeal their convictions.
"We continue to believe in the innocence of these men, and they continue to have our full love and support as family and friends who know them best," said Christin Slough, the wife of one of the convicted team members Paul Slough. "As they await this ruling, we know that they need to feel the strength of all of us now more than ever before."
The families of the Raven 23 members will be holding a joint press conference with their legal teams immediately following the sentencing. Family representatives will also be available by appointment in the Washington, DC area from April 15th through April 17th.
For media inquiries and requests for interviews, please contact info(at)supportraven23(dot)com or contact Friends of Raven 23 at 972-342-5395.
###