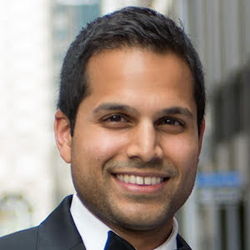 Pain affects each person in a unique way, and I spend time with every patient tailoring an individualized treatment plan.
Loveland, Colorado (PRWEB) September 19, 2016
Dr. Ravi Bhalodia is the newest addition to Colorado Clinic's top Sports Medicine, Pain Management, Neurology & Regenerative Medicine practice. He is Board Certified, Fellowship Trained and an expert in both interventional procedures and medication management for patients. Appointments can be scheduled at (970) 221-9451.
Dr. Bhalodia obtained his Bachelor of Science degree at Bucknell University in Lewisburg, Pennsylvania, graduating magna cum laude with a major in Biology and minor in Neuropsychology. He then moved to Boston, where he earned his Doctor of Medicine degree at Tufts University School of Medicine.
Following this, he completed his residency in Anesthesiology and further specialized with a fellowship in Interventional Pain Management, both at Harvard Medical School's Beth Israel Deaconess Medical Center. During his training, Beth Israel Deaconess was honored as recipient of the Pain Medicine Fellowship Excellence Award by the American Academy of Pain Medicine.
Recognizing that pain affects each person in a unique way, Dr. Bhalodia spends time with every patient tailoring an individualized treatment plan. He believes in utilizing a multimodal approach, including interventional procedures, medications, and rehabilitation to improve his patients' ability to function and quality of life.
Dr. Bhalodia performs procedures such as spinal cord stimulator placement, kyphoplasty, radiofrequency ablation, facet injections, sympathetic blocks, epidural steroid injections, joint injections, trigger point injections, and a variety of other fluoroscopic and ultrasound-guided procedures. Throughout his career, he has been engaged in teaching students, residents, and colleagues at workshops, seminars, and national conferences. He has translated this passion into educating his patients about their condition and empowering them to overcome their pain.
Dr. Bhalodia is fluent in English, Spanish, and Gujarati. His interests include spending time with his wife and dog, hiking, running, traveling, ice hockey, and enjoying the vast range of outdoor activities that Colorado has to offer.
Ravi Bhalodia, M.D. is Board Certified in Anesthesiology and fellowship-trained in Pain Medicine. Dr. Bhalodia is currently accepting new patients at the Loveland, Longmont & Boulder Locations.
Colorado Clinic accepts most major insurance plans including Colorado Medicaid & Medicare. Dr. Bhalodia is currently accepting new patients at Colorado Clinic's Locations in Boulder, Loveland and Longmont. To Schedule an appointment, please call: 970-221-9451 and visit http://coloradoclinic.com .