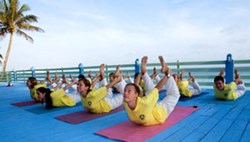 An incredible course. Don't miss out on the opportunity to learn vegan cooking.
Miami, FL (PRWEB) November 15, 2013
Just in time for the holidays! Learn special raw, vegan dishes perfect for the holidays that everyone will love. In this course, students will prepare and enjoy nutrient dense, delicious raw soups, salad dressings, patés, dips, entrées, side dishes and desserts that are surprisingly easy to make. Thorough discussions will take place about the ways in which raw and vegan foods affect your body, mind, spirit, and environment, promoting good health, increasing energy levels, boosting metabolism, and help connect to life's purpose.
Unique, delicious, healthy, detoxifying dishes that will help allow students to keep on track over the holidays and great for entertaining, with a take-home recipe book. All foods prepared will be wheat-free, gluten-free, sugar-free, dairy-free and soy-free.
Grace Van Berkum is a Registered Holistic Nutritionist, Sivananda Yoga Teacher, Certified Personal Trainer, and raw, vegan recipe creator. She is passionate about the healing powers of live foods, yoga, positive thinking, and connecting to nature. She runs empowering and life-changing Gracious Living Yoga Nutrition Surf Retreats in Nicaragua, and around the world, inspiring people towards healthier lifestyles and living their best life possible.
For more information, please visit http://www.sivanandabahamas.org. The Yoga retreat also offers Ayurvedic Yoga training as well as a variety of meditation courses.
"Swami Sivananda of Rishikesh taught Yoga-Vedanta, which came to the West through his many disciples like Satchidananda, Vishnudevananda, Ventakeshananda and Jyotirmayananda. The Sivananda Yoga-Vedanta centers founded by Swami Vishnudevananda teach regular programs on Yoga-Vedanta and with references to Ayurveda as well. I have done many programs with this organization and find it to be the best Yoga training group in the west." - Dr. David Frawley