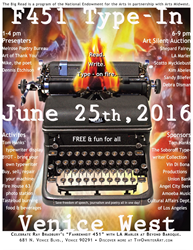 The reporter inside all of us needs a typewriter to get the job done, the story written, the truth to get told. So, here you are. Use this. It is a machine, so must be kept loose with use. It's ready for action! Throw deep, Tom Hanks
Santa Monica, CA (PRWEB) June 15, 2016
Author Ray Bradbury's science fiction masterpiece "Fahrenheit 451" will be celebrated by Contemporary Pop Artist and Event Host LA Marler (Louise Anne Marler) at a "F451 Type-In" on June 25, 2016, in Venice, California, at Beyond Baroque Literary Art Center (681 Venice Blvd, Venice, CA 90291). This free event will include a Type-In (1-4pm), along with a group exhibit of visual artists saluting literary arts, including Louise Marler's Ray Bradbury and other TypOwriter and camERA Art with a silent auction all day, concluding at 9pm.
A convergence of readers and writers, and typewriter enthusiasts will participate in this final event of The Big Read Los Angeles.
Academy Award Winner Tom Hanks has donated a typewriter to this "F451 Type-In and Exhibit" that will be displayed with an autographed note on "Lucky Guy" Daily News note pad, that says: "The reporter inside all of us needs a typewriter to get the job done, the story written, the truth to get told. So, here you are. Use this. It is a machine, so must be kept loose with use. It's ready for action! Throw deep, Tom Hanks"
LA Marler's "Ray Bradbury TypOwriter" mixed media art will also be on display. It features Bradbury's 1947 Royal KMM typewriter in a blaze surrounded by burnt text inspired by "Fahrenheit 451". This TypOwriter art evokes a passionate writer and machine, manifesting a universal story in record time. Marler's mixed media artwork, as well as the limited-edition prints will be offered for sale. A portion of the sales of LA Marler's Ray Bradbury limited edition prints will benefit the Jim Murray Memorial Foundation in support of journalism scholarships.
This Interactive"F451 Type-In" will feature fun literary activities, including:

BYOT (Bring Your Own Typewriter) to show and tell your typewriter story.
Erica Di Bona, Author "Art of Thank You" blog, will demonstrate her powerful practice of typing "Thank You Letters".
Dennis Etchison will talk about how studying Ray Bradbury's work influenced his writing.
Mike Sonksen (Mike the poet) will tell his story of Ray Bradbury's local roots and lasting impact.
Melrose Poetry Bureau will present pieces of Ad Lit Lab, including improv and poetry.
LAFD Station #63 will be there as the good guys in reality, and Fire Engine Photo ops.
Send-Off Celebration of Louise Marler typewriter donation and story to National Museum of American History.
Mike Kelley Gallery Art exhibit with a literary theme and visual artists, including: Shepard Fairey, Robbie Conal, Scotto Mycklebust, LA Marler (Louise Marler), Sandy Bliefer and Kim Abeles, and Mexican Cultural Institute students' artwork inspired by reading the book.
Literary fans will also see a display of classic typewriters, and be able to use some of them as part of this Type-In.
Silent Auction and Raffle.
Taste bud burning, other food and beverages.
Typewriter service and sales and supplies
Many thanks to the sponsors for this "F451 Type-In" event, which include Tom Hanks, The Soboroff Typewriter Collection, Vin Di Bona Productions, Los Angeles Cultural Affairs Department, Union Bank, Amoeba Music, Angel City Beer, Beyond BaroqueThe Big Read LA, Los Angeles Cultural Affairs Dept.
This special event will benefit Beyond Baroque. For more event updates and information on the artist, visit http://TypoWriterArt.com
About The Big Read and the Los Angeles Chapter
The Big Read is a program of the National Endowment for the Arts in partnership with Arts Midwest. http://NEABigRead.org. It is a nationwide initiative designed to restore reading as central in American culture. It brings together partners across the country to encourage reading for literacy, pleasure and enlightenment.
For a timely interview, please contact:
Liz Kelly, Goody PR, 310-987-7207
ABOUT THE ARTIST- LA Marler (Louise Anne Marler) is an American Contemporary Pop Artist, whose digital photography features vintage machines, including her "Famous TypOwriters" and "camERA Art" collections. Louise is a third generation typewriter collector, who has an art studio in the Santa Monica Airport hangers. Marler creates mixed-media images from original photography, graphics and illustrations, printing, painting and other techniques. LA Marler work has appeared in 13 primetime TV shows ("Two and a Half Men," HBO's "The Newsroom," "Curb Your Enthusiasm," "The Mentalist," "Criminal Minds," "Rules of Engagement" and more) and 3 films, including "The Typewriter in the 21st Century" with a LA Marler interview. Her media coverage includes The LA Times, LA Weekly and Santa Monica Daily Press. http://lamarler.com