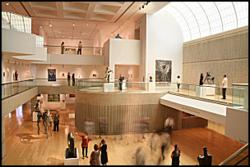 People still love Ray Bradbury's works across this valley and all over the world.
Palm Springs, CA (PRWEB) July 08, 2013
Brad Schmett, Broker Associate with Luxury Homes by Keller Williams today announced that the already booming Palm Springs real estate luxury home market will enjoy another boost thanks to the Palm Springs Art Museum's Ray Bradbury Theater revival featuring a series of film screenings to run from June 27 through September 6 on Thursdays at 5 p.m..
Bradbury, the award winning and internationally famous science fiction author was a long time resident of Palm Springs until his death last year at age 91 from a lengthy illness. His modernistic Palm Springs home is still listed as a vacation rental, attracting his legion of loyal fans from around the globe. Perhaps best known for Fahrenheit 451, Bradbury was arguably one of the most emulated and iconic authors of the twentieth century.
Schmett recently commented on the Bradbury phenomenon, "People still love Ray Bradbury's works across this valley and all over the world. There were actually 65 of his stories that he adapted for films just for the Ray Bradbury Theater on HBO and now right here in Palm Springs we can enjoy the best of them. This ongoing event will bring in droves of his devoted fans, many of whom will be visiting our area for the first time. Once visitors see what we have to offer they are keen to shop for vacation homes. We welcome them and plan to be available to meet everyone who is looking to add to their real estate portfolio. The timing could not be better."
Expect to see a selection of the most popular Bradbury stories in conjunction with an upcoming exhibition called Across Dimensions: Graphics and Sculpture From the Permanent Collection at the spacious Palm Springs Art Museum in Downtown Palm Springs. The screening are free and open to the public. Fine dining is an easy walk from the museum.
For more information on the Ray Bradbury Theater film series, visit http://www.psmuseum.org.
To find out more about investing in Palm Springs, CA real estate, visit palmspringsrealestateinfo.com.
About Luxury Homes by Keller Williams: Luxury Homes by Keller Williams – Palm Springs, is an exclusive, elite and sophisticated group of real estate consultants raising the bar for service in the Palm Springs area residential real estate market.