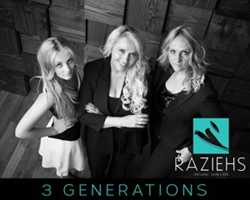 Prevent. Maintain. Repair.
Murray, Utah (PRWEB) February 26, 2014
A Utah-based skin care company, Raziehs, founded and created by Gina Monibi who is a former New York fashion model, is heading to the Oscars. They were invited by Project Green to be a title sponsor at the Xen Lounge in a Pre-Oscar event.
Raziehs is very different from other skin care lines. Most beauty products on the market today contain pesticides, methyl, butyl and propyl parabens, sulphates, propylene or butylene glycols, petroleum, silicones, artificial dyes or fragrances, formaldehyde and more. Razieh's skin care products do not contain any of these harmful ingredients. They offer only the most concentrated, natural, and organic products on the market. All of their products are vitamin packed and antioxidant rich. This high standard of quality helps reduce the appearance of stretch marks, scars, eczema, psoriasis and produces protection from free radicals. Antioxidants help fight off these free radicals and protect and rejuvenate the skin.
There are certain properties of this skin care line that actually cause an increase in collagen, causing elasticity. It also builds new skin cells, as well. Active ingredients in their products help reduce the appearance of wrinkles in the forehead, around the eyes, nose and throat. Researchers found that when usage was stopped for a period of two weeks, skin did not regress. One of their clients, Beth Moon, said, "my face feels like it is getting a hug after using Raziehs."
Targeting all ages, they play to the 3 Generations of: Prevent. Maintain. Repair. Along with Gina, her daughter Mandy Aguirre, and granddaughter Tavia Nell are the faces of the company. Preventing as before the aging begins, Maintaining the skin to keep it looking young and refreshed, and Repairing the aging that has already occurred.
They will be placing their featured item, Razilift, into the premium bags that will be given to the Oscar winners and nominees. Razilift is a "notox in a jar". This proprietary treatment activates surface renewal to reveal visibly younger looking skin. It addresses loss of elasticity and fights the appearance of fine lines, while re-energizing and hydrating skin. Formulated with the most powerful organic anti-aging ingredients, this product dramatically decreases the appearance of deep lines and wrinkles while boosting radiance of the skin. Their combination of natural ingredients nourishes and repairs skin, while delivering superior antioxidant protection.
They are excited to share their products manufactured on their own in Utah with over 10,000 celebrities and VIP's at the Oscars.
"I believe that when a woman is taking care of herself on the outside, she feels better about herself on the inside, creating a chain reaction of self confidence. By bringing out her inner beauty, it makes her outer beauty shine and she feels beautiful all the way around helping her to be a better person, mother, wife, and partner. Our brand is bringing beauty and glamour into Organic products. People usually have the misconception that organic products don't work, but ours actually work, and the texture of our products are so light and silky smooth." -Gina Monibi