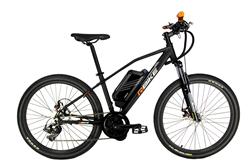 Eco-Friendly RBIKE Will Be Available for Pre-launch Preview on Crowdfunding Platform Indiegogo
Los Angeles, CA (PRWEB) August 18, 2015
In a matter of a few days, the much anticipated eco-friendly e-bike RBIKE will be available for pre-launch preview through the crowdfunding platform Indiegogo. The innovator made it official that the Indiegogo campaign for RBIKE will be launched on August 20th this year. He said that the technology behind RBIKE is solid and conforms to the highest international standards. The brain behind the design is of a person with previous experience in designing for Ferrari, Lamborghini as well as International Jeep Bicycle.
Defying contrary perceptions, RBIKE is surprisingly affordable and provides an effortless and easy means of conveyance on the busy roads of big cities. 'Alternative private transport' gets a facelift with RBIKE while staying on top of the technological curve. It is powered with high-end Lithium Moped technology that is used only by the leading manufacturers across Europe. With an electronic bike at disposal, one may easily forget the gazillions of fuel that traditional bikes consume. RBIKE models are in the making in the city of Shenzhen in China. The frame of RBIKE combines the top tube & skewer creatively. It also improves the rigidity to 211% in the vertical direction, which makes you more comfortable during riding.
RBIKE is powered by a capable and efficient 240watt or 36 volt motor without the presence of brushes which makes it a landmark in the evolution of the e-bike. The motor not only provides sufficient outputs of power but also runs with a minimal amount of maintenance. In spite of its unassuming form of a bicycle, it can accelerate up to speeds of 20 kilometres to the hour in a matter of a minute 3 seconds. Disc brakes also ensure that the bike may come to a halt very quickly according to the wishes of the rider.
The innovator recently said at a press meet, "Streets across the world are full of fuel consuming vehicles that pollute the environment and clog the streets. RBIKE is a sort of a ray of hope in such a situation."
About the Company
RBIKE is a pedal-assisted cum semi-automatic electric bicycle invented by a UK based A2B Technical Director.
For more info, visit http://RBIKE.witobuy.com/