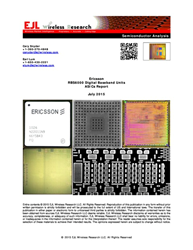 Key technology providers include RapidIO, CEVA and Enea AB
Salem, NH (PRWEB) July 23, 2015
The Ericsson application specific integrated circuit (ASIC) architecture is a modular multi-core hardware that is fixed in relation to its software, according to the latest report from EJL Wireless Research titled "Ericsson RBS6000 Digital Baseband Units ASICs Report." "This report is the first of a new type of DNA-I research product from EJL Wireless which dives deeper into the analysis and understanding of not only the system level functions of current DNA-I research reports but down to the physical semiconductors contained within these systems. ASICs form the core of current digital baseband units supplied by not only Ericsson but other major wireless equipment vendors," says founder and President, Earl Lum. "Mobile wireless infrastructure developers will be intrigued by the sophisticated blend of Ericsson's Radio System architecture and customized application of proprietary technology to create scalable high performance BTS processing platforms. Ericsson's ASIC technology is architected to be reconfigurable and optimized through dynamic software updates," says co-author and Principal Analyst, Cary Snyder.
The report discusses the evolution of the design philosophy and architecture for Ericsson ASICs from the GSM air interface to the LTE/LTE-A air interface. The systematic progression of performance, power consumption, and functional integration is analyzed across the baseband ASICs to reveal how the respective air interfaces can be optimized.
The report provides a unique perspective on current and future Ericsson ASIC designs including those supporting the new Baseband 52xx products as well as for next generation 5G platforms.
The report is currently available for purchase and information can be downloaded at http://www.ejlwireless.com.
About EJL Wireless Research LLC
EJL Wireless Research LLC provides proprietary, accurate and cutting-edge market analysis and consulting services on the wireless technology ecosystem and defense and aerospace industries. The firm's wireless infrastructure research division focuses on all vertical elements of the wireless ecosystem including mobile subscribers, mobile operators, mobile handsets, mobile infrastructure and mobile content. In addition, the firm provides analysis across horizontal technology suppliers including RF semiconductor materials, RF semiconductor/components, subsystems and OEMs. Similarly, the defense and aerospace division focuses its efforts on the ecosystem supporting UAV and airborne platforms and subsystems. Our goal is to provide our clients with mission critical market analysis and information.
EJL Wireless Research LLC believes it has a corporate responsibility, both local and international, in giving back to the community. Please visit our website for more information about the charitable organizations it supports at: http://www.ejlwireless.com/corporate_responsibility.html.
EJL Wireless Research LLC is managed by Earl Lum. Mr. Lum has 20+ years of experience within the wireless industry including 8 years as an Equity Research Analyst on Wall Street covering the global wireless industry. The company is headquartered in Salem, NH. For more information about EJL Wireless Research, please visit the company's websites at http://www.ejlwireless.com, http://www.ejldefense.com or our weblog at http://ejlwireless.wordpress.com.