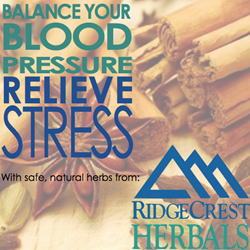 Being overloaded with sugar and simple carbs can cause lethargy and lead to more serious conditions.
Salt Lake City, UT (PRWEB) December 19, 2013
Sugary indulgences and stress are at their highest levels during the holiday season. RidgeCrest Herbals has two products on special right now to help relieve stress and balance blood sugar things during this festive time.
Last minute shopping, rushing from one party to another, and preparing for the perfect holiday season is extremely stressful. Large amounts of stress and anxiety lead to many unsavory health problems. Any medical professional will attest to the fact that stress and anxiety are not good for the body and recommend solutions such as relaxation, therapy, and sometimes prescription drugs. Keeping stress at bay can be done with natural herbs, also. Using this method is preferred by many people, and is effective for the short and long term.
Keeping the blood sugar balanced can be hard during the holidays, when the consumption of comfort foods and sweet treats occurs during parties, events, and everyday life. Most people naturally balances the blood glucose levels in their own body, but when overloaded with sugar and simple carbohydrates, it can cause lethargy, and can potentially lead to more serious conditions. Using safe and natural herbs to help the body maintain normal blood sugar levels is a simple way to keep healthy during this busy holiday season.
The Blood Sugar Balance, and the Anxiety Free herbal supplements are on sale right now for 25% off. RidgeCrest's natural supplements can help with the effects of the busy, indulgent holiday season.
RidgeCrest is also offering an extended 60% off clearance on UTIntensive, FibroRelief, TMJ Relief, and Arthritis Relief.