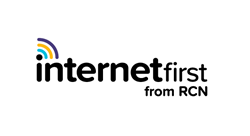 "With continued COVID-19 safety protocols in place for schools and businesses, the need for reliable access to the internet at home is just as important in 2021 as it was at the onset of the pandemic, and keeping people connected remains our priority." - Chris Fenger, COO of RCN, Grande, and Wave
PRINCETON, N.J. (PRWEB) March 24, 2021
RCN, Grande and Wave, award-winning providers of high-speed internet, digital TV and phone services across the U.S., today announced that Internet First customers, both new and existing, are receiving a significant speed increase – double the speed of their current package – for no additional cost or required action. Internet First delivers reliably fast internet for just $9.95 per month to qualifying low-income households eligible for assistance programs like SNAP, Medicaid, or WIC.
Launched in April 2020 to help households impacted by COVID-19, the Internet First program provides affordable internet options to families and students in low-income households. The program delivers reliable access to RCN, Grande and Wave's award-winning internet for eligible customers, enabling them to continue school and work, access educational resources and more.
"With continued COVID-19 safety protocols in place for many schools and businesses, the need for reliable access to the internet at home is just as important in 2021 as it was at the onset of the pandemic, and keeping people connected remains our priority," said Chris Fenger, Chief Operating Officer of RCN, Grande and Wave. "Faster access at the same affordable price will provide relief for families still adjusting to the sustained shift of work, school and entertainment to the internet, and accommodate the uptick in bandwidth that comes with having everybody at home."
RCN, Grande and Wave Internet First offering includes:

Double the speed, with up to 50Mbps internet.*
Free internet and standard WiFi for first 60 days through enrollment in the Internet First Program, for all qualifying low-income households who do not already subscribe to their internet service
No activation or installation fees for equipment
Option to add Whole Home WiFi powered by eero for $9.95 per month, including one eero Pro and 1 eero Beacon
RCN, Grande, Wave continue to see excellent performance of their networks with engineers, field technicians, and operations centers on point 24/7 to meet shifts in usage patterns and increased traffic. While many are still working, learning and connecting from home, the organization remains vigilant in keeping everyone connected and safe. RCN, Grande and Wave have pledged to ensure its workforce continues to follow safety protocols, such as wearing masks and social distancing to keep employees, customers and the communities they serve healthy in these challenging times.
For details on all RCN, Grande and Wave programs and additional updates on the companies' response to COVID-19, please visit http://www.rcn.com/we-care, http://www.wavebroadband.com/we-care, or http://www.mygrande.com/we-care.
*Observed speeds may vary based on device, connection and other factors and are not guaranteed.
About RCN, Grande Communications, Wave Broadband and enTouch
RCN Telecom Services, LLC (http://www.rcn.com) Grande Communications (http://www.mygrande.com), Wave Broadband (http://www.wavebroadband.com) and enTouch Systems (http://www.entouch.net) form the sixth largest US cable operator and provide award-winning high-speed internet, broadband communications solutions, digital TV, phone services and fiber optic solutions for residential and business customers across the United States. Together, RCN, Grande and Wave serves areas of Massachusetts, Chicago, Pennsylvania, New York City, and Washington, DC. (RCN); Texas (Grande Communications and enTouch Systems) and Washington, Oregon and California (Wave Broadband).