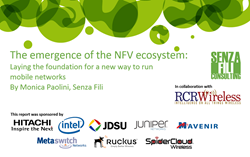 One reason we got into NFV is that we realized that if we have to push services faster and sooner...NFV is the way - Tripp Tripathi, AT&T
Austin, Texas (PRWEB) October 23, 2014
The transition to virtualized mobile networks is going to be a watershed in the way operators deploy, operate and financially benefit from their networks. Virtualization will bring cost savings, improvements in resource utilization, and a faster and more effective way to launch new services. Despite the hype surrounding virtualization, it is difficult to overestimate the deep and broad effects that virtualization will have in the long term, but this report, 'The emergence of the NFV ecosystem,' gives readers a clearer understanding of these effects.
Virtualization is an inevitable choice, and yet one that requires much work. Eventually it will make mobile networks leaner and cheaper to operate, but at the beginning it will require financial and resource investment, and make mobile networks more complex. There are many technological challenges, but the cultural changes that virtualization entails are likely be even more disruptive.
In this report, we are trying to disentangle the multiple and far-reaching effects that virtualization will have on mobile networks – as well as on mobile operators and vendors. The virtualization process will slowly expand in scope and depth over the next years along ten dimensions:
1. Physical / Virtualized
2. User plane / Control plane
3. Core / RAN
4. Function / Orchestration
5. Centralized / Distributed
6. SDN / NFV
7. Telco / IT
8. Continuity / Change
9. TCO / Agility
10. Optimize / Monetize
The market report is followed by 11 interviews with ecosystem players in which we discuss not only the benefits of virtualization, but also the challenges that vendors and operators have to face, and how the ecosystem is developing.
You can download this report featuring the following companies:

Hitachi
Intel
JDSU
Juniper Networks
Mavenir System
Metaswitch Networks
Ruckus Wireless
SpiderCloud Wireless
The report also features in-depth interviews with AT&T, KDDI and Telefonica.
Watch the complimentary editorial webinar featuring:
Jeff Mucci, RCR Wireless News
Monica Paolini, Senza Fili
What wireless operators are saying about NFV:
"NFV and network virtualization in general promise to bring a complete change in the way we think about the networks, in the way in which we develop them, in the way in which we operate them, and in the way in which we can see the service that we can provide. We will be able to have much more flexible deployments and much more efficient operation, and be able to personalize the user experience," said Diego Lopez, Head of Technology Exploration,Network Innovation and Virtualization Directorate, Telefonica
"One reason we got into NFV is that we realized that if we have to push services faster and sooner and have to reap the benefits of reusability and scalability, NFV is the way." Satyendra "Tripps" Tripathi, Director New Tech Prod Dev Eng, Services Design and Development, AT&T.
"Smartphone traffic consumes many signaling as well as data resources, on the other hand, new M2M service is consuming more and more signaling resources, rather than data. When our signaling resources are overloaded, the virtualization of the core network can help us process the signaling traffic. We can process signaling with our existing EPC, but we think we can do that more effectively with virtualization," Masashi Usami, Executive Director, KDDI.
Click here to download the report.
About RCR Wireless News
Since 1982, RCR Wireless News has been providing wireless and mobile industry news, insights, and analysis to industry and enterprise professionals, decision makers, policy makers, analysts and investors. Our mission is to connect, globally and locally, mobile technology professionals and companies online, in person, and now on video. Our dedication to editorial excellence coupled with one of the industry's most comprehensive industry databases and digital networks leads readers and advertisers to consistently choose RCR Wireless News over other industry publications. http://www.rcrwireless.com
About Senza Fili
Senza Fili provides advisory support on wireless data technologies and services. At Senza Fili we have in-depth expertise in financial modelling, market forecasts and research, white paper preparation, business plan support, and due diligence. We provide a bridge between technologies and services, helping our clients assess established and emerging technologies, leverage these technologies to support new or existing services, and build solid, profitable business models. Independent advice, a strong quantitative orientation, and an international perspective are the hallmarks of our work. http://www.senzafiliconsulting.com