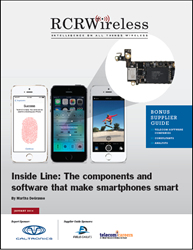 Carriers are looking to on-board software as a way to brand smartphones with tools that go beyond customized operating systems. - Martha DeGrasse, RCR Wireless News Editor
Austin, TX (PRWEB) January 30, 2014
Analysts and executives identified a number of emerging smartphone trends during the latest RCR Wireless News editorial program. Key takeaways include: a growing demand for devices that can move from carrier to carrier, an increasing emphasis on sensors within smartphones, and carrier interest in on-board software as a way to differentiate devices and manage traffic.
Download this report to learn:
*The components inside smartphones today
*The real drivers of smartphone cost
*Examples of the software pre-loaded on smartphones
*What carriers and their customers value when it comes to handset hardware and software
*Emerging trends: how the interaction between components and software can enhance revenue
Watch the complimentary webinar featuring:
*Martha DeGrasse, Editor, RCR Wireless News
*Kymber Umana, Hispanic Marketing Manager, Sprint
*Ehpraim Ulmer, President & CEO, Galtronics
*Carla Fitzgerald, Chief Marketing Officer, Smith Micro Software
*Andrew Rassweiler, Sr. Director of Cost Benchmarking, IHS Technology
While smartphones are becoming more powerful and more ubiquitous, the prices of the components inside them are continuing to fall. This means that smartphone makers can offer the same performance for a lower price, or more performance for the same price. To improve performance, smartphone makers need new and better components with more on-board software.
This report reviews the components inside today's smartphones, as well as the pre-loaded smartphone software that is becoming increasingly important to carriers and their customers.
"Carriers are looking to on-board software as a way to brand smartphones with tools that go beyond customized operating systems," noted RCR Wireless News Editor Martha DeGrasse. "At the same time, they're looking to on-board policy management software to manage network traffic more efficiently."
Other key trends identified in the report include downward pressure on handset component prices, a focus on sensors as a way to extend smartphone functionality, and a growing demand for devices that can move from one carrier to another.
"If you want to take a phone and unlock it and eventually take it to another carrier, you'll need to have the one-size-fits-all interface," said Andrew Rassweiler, senior director of cost benchmarking and teardown services at IHS Technology. This means manufacturers are increasingly focused on front-end radios and antennas. These are not large drivers of overall smartphone cost, but manufacturers are expected to spend more on these components going forward. "Right now where the money is being spent is antenna filters, RF filters, antenna switches, etc.," said Rassweiler.
Click here to download this feature report.
Since 1982, RCR Wireless News has been providing wireless and mobile industry news, insights, and analysis to industry and enterprise professionals, decision makers, policy makers, analysts and investors. Our mission is to connect, globally and locally, mobile technology professionals and companies online, in person, and now on video. Our dedication to editorial excellence coupled with one of the industry's most comprehensive industry databases and digital networks leads readers and advertisers to consistently choose RCR Wireless News over other industry publications.