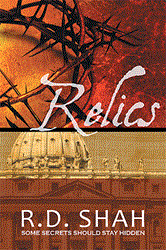 United Kingdom (PRWEB) October 10, 2013
To discover the truth, one must first uncover the lies. When a Catholic priest hangs himself during the pope's inauguration, his friend and ex-priest, Alex Harker, is dragged into a secret war that has been playing out on the fringes of society since the birth of Christ. The suicide sets into motion of planned timetable of terrifying events that will irrevocably change the world. With the clock ticking and pursued by a murderous assassin, Harker must track down and decipher the pieces of the puzzle laid down for him by his dead friend to reveal a truth – so shocking, so startling – that it could literally enslave the minds of every human being on the planet and transform mankind's destiny forever.
Relics by R.D. Shah is a murder mystery thriller revolving around a vicious, unscrupulous sect trying to dominate the Catholic Church and an age old organization (the legendry knights Templar) fighting to stop them. The book focuses on the Magi's quest to infiltrate the papacy and create a clone of Jesus Christ by procuring blood stained relics that hold the blood, and therefore DNA of Christ and in doing so, usher in the belief of the second coming with them at the head of the church.
Professor Alex Harker is an ex-catholic priest who has lost his faith and has become an archeologist, working at Cambridge University to uncover real histories. Whilst investigating the suicide of a priest friend, he is pulled into a secretive war for control of the Catholic Church which has been playing out on the fringes of society for thousands of years. Meanwhile, Sebastian Brulet, grandmaster of the legendary Knights Templar, a secretive organization for good that has been watching and protecting the Catholic Church from the sidelines against elements looking to harm or control it at any cost, is also looking for answers.
A mysterious sect known only as the Magi, lead by John Wilcox, one of four brothers who descended from the famed three wise kings and who have been seeking to infiltrate the church for their own benefit, and in doing so fulfill Wilcox's sinister plans.
Drazia Heldon, a seven foot brutish Magi assassin, however, has orders to stop Alex Harker at any cost and retrieve certain relics that lie at the heart of the Magi's quest for domination of the church. Rino Perone, a hardnosed, no nonsense superintendent of the Italian police also comes into the picture and pursues Alex Harker under the wrongful belief that the archeologist is responsible for the host of murders that Heldon has left in his wake.
Relics is a fast paced suspenseful story intertwining real world events. The volume looks at today's problems surrounding the modernizing of the church and the drop in religious faith of the western world in recent years. The story is fresh and engrossing encompassing some well known ideas that pulls the reader into an unseen and murky world of intrigue and conspiracy which propels them in one mysterious direction and then another, creating a book that's tough to put down once started.
For more information on this book, interested parties may log on to http://www.XlibrisPublishing.co.uk.
About the Author
R. D. Shah spent his formative years in the north-west of England before attending Rugby School in Warwickshire. At seventeen, he attained his private pilot's licence in Florida and, shortly after, attended the University of Miami where he studied motion picture and psychology before returning to United Kingdom to work in television and leisure. He has travelled extensively throughout Europe, Russia, and the Americas. Shah holds a scuba diving licence which he gained along the shores of the Hawaiian island of Kauai. All this experience has prepared him for a career in writing. He lives in Wiltshire with his girlfriend and is currently working on his second book.
Relics* by R.D. Shah
Publication Date: July 22, 2013
Trade Paperback; £9.99; 375 pages; 978-1-4836-6464-4
Trade Hardback; £18.99; 375 pages; 978-1-4836-6465-1
Ebook; £3.99; 978-1-4836-6466-8
Members of the media who wish to review this book may request a complimentary paperback copy by contacting the publisher at + 800-056-3182. To purchase copies of the book for resale, please fax Xlibris at 44-203-006-8880 or call + 800-056-3182.
For more information, contact Xlibris at + 800-056-3182 or on the web at http://www.XlibrisPublishing.co.uk.