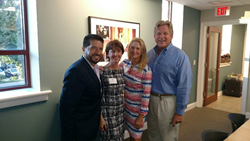 Branford, Conn. (PRWEB) October 05, 2016
Reach Beyond Marketing recently hosted a jam-packed Shoreline Chamber of Commerce "Business After Hours" at their new office suite on Main Street in historic downtown Branford.
Francis and Colleen Acunzo, CEO and Managing Partner of Reach Beyond Marketing and its sister company, Acara Partners, welcomed over 75 guests to the home of their marketing and digital communications agency. Shoreline Chamber President Ed Lazarus and Fran Acunzo both welcomed guests to the event, which included Conn. State Sen. Ted Kennedy, Jr., Branford's Economic Development Commission Chair, Perry Maresca, and dozens of local business people and town officials.
This past June, Reach Beyond Marketing and Acara Partners moved its headquarters from the People's United Bank building at 500 East Main Street in Branford to their redesigned office space directly across from the Branford Green at 944 Main Street.
About Reach Beyond Marketing
Reach Beyond Marketing is a full-service marketing and digital agency assisting clients in the medical aesthetic, health, wellness, and other industries to "reach beyond" growth, revenue, and profit goals. The agency boasts experts with extensive experience in digital and traditional marketing and communications including web development, content creation, branding and graphic design, social media strategy, video and photographic production, and much more. Please visit reachbeyondmarketing.com for more details.
About Acara Partners
Francis and Colleen Acunzo are recognized pioneers in the medical aesthetics industry. Driven by their passion for success, this entrepreneurial husband-and-wife team applied their years of experience when they co-founded Acara Partners in 2003. Their dedication has established their firm as the industry's quintessential, comprehensive business advisory, marketing, advertising, and digital agency.
Acara's team of experts integrates knowledge of strategic planning, digital marketing, web development, graphic design, and social media management to drive growth, revenue and profits for their clients. With an impressive roster of over 165 current and past clients in major cities in most of the 50 states, as well as internationally, Acara Partners is known for helping to lead the impressive medical aesthetics industry growth spurt, as well their ability to double the revenue of many of the businesses they work with. To learn more, please visit acarapartners.com.