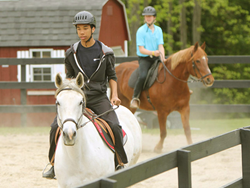 Whatever our son is achieving is due to the help and support of the Glenholme staff and the confidence that has gradually been instilled upon him.
Washington, CT (PRWEB) January 22, 2015
Envision the life-changing power of an educational experience that complements the learning style, interests and abilities of each student; a school setting that is structured specifically to the student as a whole person, meets each student at their learning level, and guides them to understand and reach their potential. This is a fundamental principal that propels the teaching philosophy of The Glenholme School, a therapeutic boarding school for young people with anxiety, autism spectrum disorders, learning differences and various forms of social skills deficits.
Since opening its doors over 45 years ago, The Glenholme School has recognized that every student has a unique way of learning and responded with a tradition in education that transcends the confines of classrooms and imparts knowledge, instills friendship and extends kindness from every aspect of life at school. Reaching Your Potential Month is a compelling reminder to recognize the importance of the school's central mission of helping young people with learning differences discover and reach their potential.
For many young people who are learning to make their way in the world, discovering individual potential is not limited to one certain talent or one specific path. In the supportive and nurturing educational setting at Glenholme, where an emphasis is placed on inclusion, acceptance, and participation in school life, passions, talents and abilities of all kinds are discovered and potential can be realized — both inside and outside the classroom.
At Glenholme there are plans for multiple exposures that build on student strengths. Some experience a metamorphosis from working with the horses. Others take to culinary arts as their craft. Those with technical strengths gear up in technology or robotics. Many students soar with their first steps on stage as an actor, a singer or a stage manager. Some find their voice working with artistic mediums and techniques. Many are amazed and overjoyed with their first time playing on an interscholastic sports team. All the while, students are exploring and learning about themselves and those around them. Aptitude and achievement in one realm often provides benefits in other learning domains as well as increases interest and motivation.
Often, this evolution occurs within Glenholme's esteemed equestrian program, which provides an optimal setting for students to develop social skills, character values, and a positive self-image. The power of equestrian program is illustrated by the story of a former Glenholme student, Andrew, who enrolled as a reserved and disinterested student. He was remarkably passive, lacked ambition, and, although always compliant, never put forth any extra effort when completing a task. After a few short months of working with the horses, there was a noticeable change in Andrew's demeanor. He became more social, conveyed a greater degree of initiative and effort, and exuded a newfound sense of confidence. Andrew was eventually hired to work part time at the campus barn, where he exhibited remarkable responsibility, work ethic, and passion. In his cottage and during school activities, he became noticeably more social and engaged. Andrew, who was once in need of inspiration, began to inspire others.
Across every aspect of Glenholme, students can discover their talents and passions and grasp success. The incredible variation of opportunities for participation creates a school setting where student life is filled with social engagement and involvement — an essential area of learning for students with social skill deficits and anxiety. Relationships are nurtured and developed between students and their peers, adults and even animals across the Glenholme campus. It is an extraordinary educational experience that students with learning differences carry their with them throughout life and serves to create confidence and influences involvement even after graduation as students matriculate to colleges and universities and go on to meaningful careers and fulfilling lives.
About The Glenholme School:
The Glenholme School, a center of the Devereux organization, is a not-for-profit 501(c)(3) therapeutic boarding school for young people with high functioning autism spectrum disorders including Asperger's; ADHD, PDD, OCD, Tourette's, depression, anxiety, and various learning differences. The program provides a treatment milieu designed to build competence socially and academically. Our learning environment supports and enhances the ability for young people with special needs to succeed. Devereux is a leading nonprofit behavioral health organization that supports many of the most underserved and vulnerable members of our communities. For more information about The Glenholme School and its program, visit http://www.theglenholmeschool.org/home/.